My Husband Won't Stop Stealing My Conditioner — & I Don't Blame Him
NatureLab Tokyo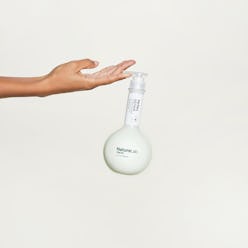 The best thing about working in the beauty industry is, without a doubt, the opportunity to sample new skincare, makeup, and hair care products as they're released. As a writer, it's my hope that my experimentation efforts eventually help you make better beauty choices — but so far, it seems the person who's benefited most from these test runs is my husband. He's a bit of a product junkie (we have that in common) and always manages to appear in my office just as I'm about to open a freshly-delivered package, lingering until I agree to pass some samples his way. These 11 unisex beauty products my husband always steals (and hogs) are now his go-tos — and I have to say, he has great taste.
He gravitates towards minimalist packaging design (honestly, his #shelfie is chicer than mine), so aesthetic is important. But to earn Evan's full stamp of approval, a product has to check a few utilitarian boxes, too: It has to smell good; it has to be easy to use; and, of course, it has to actually work. Once a hair, skin, or body care product has been Evan-approved, I'll usually give it a go myself. I'm never disappointed.
Ahead, the luxe, unisex beauty products we both swear by.
Davines OI Conditioner
Evan says: "I like this conditioner because I can scoop it out, and it feels like I'm laying mortar."
Davines products have always been a family go-to for us, and the brand's OI Conditioner is a permanent fixture on our collective bathroom shelf. Made with antioxidant roucou oil, it protects hair from pollution while leaving it super-soft and shiny. I love that this is a cross between an everyday conditioner and a deep conditioning treatment; it's intended for daily use and works best when left on for two to three minutes at a time. My coarse, curly hair drinks it up — and Evan's thick, salt-and-pepper strands do, too.
Miriam Quevedo Shampoo and Scalp Mask
Evan says: "It smells nice and my hair always feels very clean after."
The Glacial White Caviar Hydra-Pure Shampoo is the hero of my husband's hair care routine. He's obsessed with the twist-top functionality — like I said, he's big on design — and even more obsessed with how it gently removes buildup while preventing hair loss, thanks to protein-rich white caviar oil and plumping hyaluronic acid.
Every once in a while, Evan will reach for Miriam Quevedo's Extreme Caviar Scalp Mask, too. This has quickly become one of my personal favorites since its scrubby texture (care of Tahitian mother of pearl and coral sand) helps exfoliate my sensitive scalp without irritation. I consider it a key component of my anti-dandruff routine.
L:a Bruket Fennel Seed Facial Wash
Evan says: "I like it but it smells like licorice."
Before I came along, my sweet, clueless husband washed his face with the same bar soap he used on his body (I shudder just thinking about it), so I made him try this Fennel Seed Facial Wash from L:a Bruket instead.
The "licorice" smell that Evan picked up on is actually fennel seed oil; which helps clear out pores and lighten dark marks, according to dermatologist Dr. Aanand Geria of Geria Dermatology in New Jersey. Paired with calming cucumber and skin-strengthening algae extract, the clean, oil-free feeling it leaves behind is more than enough to make up for the earthy scent (if that's not your thing).
BLAQ Peel Off Mask
Evan says: "I use this to soak up the sebum on my nose."
Evan hasn't stopped saying "sebum" since I taught him what it is (a fancy word for the natural oils your sebaceous glands produce). Since his particular glands tend to be overactive, BLAQ's charcoal-infused mask is just what he needs to soak up all that excess sebum — not to mention give him a great excuse to say "sebum" again.
He'll usually slather a tiny bit onto his nose, as that's where he's most oily, and leave the mask on for about 15 minutes. The charcoal "magnetizes" and attaches to any oil, dirt, or bacteria hanging out in the pores; and when peeled off, it whisks away all that pore buildup. Evan gets an oil-free T-zone out of it, and I get to indulge in a romantic face mask session with my hubby. It's a win-win.
Necessaire The Body Wash - Eucalyptus
Evan says: "It makes my skin feel silky and smooth; and because it says vitamins on the front, I feel like I'm being covered in nutrients."
The power of suggestion is real — but in this case, Nécessaire's packaging is telling the truth. It's full of skincare-level nutrients like vitamin A (to keep skin young-looking), vitamin B (to soften), vitamin C (to brighten and boost collagen production), and Omega-3, -6, and -9 fatty acids (to strengthen the skin's barrier). Evan's a fan of the eucalyptus scent — it's more energizing and refreshing — while I regularly reach for the musky sandalwood version.
Emera Shampoo & Conditioner
Evan says: "I use the CBD shampoo and conditioner almost every day because I'm telling myself the lie that I'm actually feeling something."
Clearly, I need to educate my husband on how CBD works. You're don't necessarily "feel" anything with CBD beauty products like this. Instead, the CBD inside serves to infuse hair with all 21 known amino acids (the building blocks of protein — what your hair is made of). Because of this, CBD hair care products, like this shampoo and conditioner from Emera, are known for making hair longer and stronger. The best part? They're so softening; after an Emera wash day, we can't stop running our fingers through each others' hair.
N:p beautiful Miracle Serum
Evan says: "It makes everything feel luxurious — it's like a Mercedes for the top of my head."
N:p Beautiful's Miracle Serum uses plant stem cells to hydrate and rejuvenate dull, tired hair; and my husband and I are both big fans. Really — we would literally fight over this to the last drop, so now we have two bottles. The serum is designed to be used after leave-in conditioner and before stylers; and it has a soft, tropical floral scent that makes a good hair day that much better.
Le Labo Hinoki Shower Gel
Evan says: "It's my favorite soap I've ever owned — I feel like a Greek god who smells like French royalty."
A few Christmas' ago, I dropped some major hints that I wanted a bottle of Le Labo Santal 33 perfume, and Evan didn't disappoint. It ended up being a gift for him, too — the package came with a few samples of other unisex Le Labo scents, which is how he discovered the brand's Hinoki Shower Gel. Now, his morning shower bathes the whole house in the strong, spicy, rosemary-tinged scent of this body wash (and I'm not complaining).
NatureLab Tokyo Repair Series
Evan says: "It makes me feel like I'm a rich guy on safari."
Whenever we travel, Evan and I pack our mini bottles of NatureLab Tokyo's Repair Shampoo, Conditioner, and Treatment Masque. The mix of bamboo stem cells and argan oil inside keep our hair healthy-looking and shiny, while a dose of prickly pear oil shields strands from sun and pollution damage. Plus, the fragrance — a mix of cypress oil and green tea — is a crisp, fresh scent that works for men or women, which helps us save space on our ridiculously crowded bathroom shelves.