12 Exfoliating Scalp Scrubs That Will Help Get Rid Of Buildup & More
by Jacqueline Laurean Yates
Ouai Haircare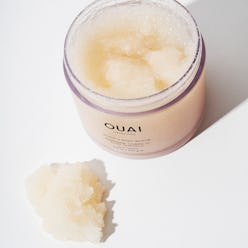 "I love having itchy hair," said no one, ever. Just about everyone has dealt with the kind of itch that's only relieved when massaged with the tip of a bobby-pin... and that discomfort can take away the joy of a shiny new updo or protective style. Especially when the assembly can come undone with just one scratch. That's where dandruff and buildup-fighting scalp scrubs save the day.
Great looking hair starts at the root with a healthy scalp, which is why it should be treated like the MVP of your entire haircare routine. These hair exfoliators are created specifically to rid your scalp of excess sebum and dead skin cells. Clarifying ingredients such as apple cider vinegar and sea salt, common ingredients found in many popular scrubs, work to detox dandruff and trapped bacteria caused by sweat and heavy, greasy products. And ingredients like aloe vera and avocado oil provide the area with the TLC it needs to stay balanced.
For the natural hair readers wondering — yes, scalp scrubs work on curls and coils, too. They won't dry out your hair, as long as they're applied directly to the problem areas. "If you have thicker hair, or worry about the product not reaching your scalp, you can divide your hair into four sections and apply in sub-sections using a comb, applicator brush, or old toothbrush," celebrity hairstylist Monae Everett tells TZR. Also be sure to fully rinse your scrub out after massaging to avoid leftover product. "Rinse way longer than you think is appropriate," Everett suggests.
Ahead, see 12 of the best scrubs that will reveal your best scalp ever.
We only include products that have been independently selected by The Zoe Report's editorial team. However, we may receive a portion of sales if you purchase a product through a link in this article.