16 Dandruff Shampoos And Treatments That Actually Look Good In Your Shower
IGK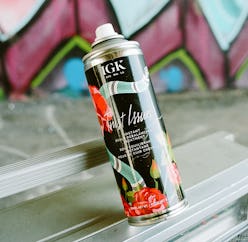 No one ever said that dealing with an itchy scalp and flakes was glamorous, but thanks to the latest crop of luxury dandruff shampoos and treatments that really work (and look good in your shower, too) that's all about to change.
Almost everyone experiences dandruff, the buildup that forms on your scalp and tends to fall to your shoulders, sprinkling your favorite black sweater with white flakes from time to time; and for a while, trusty Head & Shoulders shampoo was the only treatment option that was readily available. Not to knock the drugstore staple or anything (it really does work — more on that later), but the formula didn't necessarily stack up to the OUAIs and Oribes of the world, at least from a #shelfie standpoint. Beauty enthusiasts were in desperate need of shampoos, conditioners, and stylers that both worked on dandruff and felt luxurious — and boy, did haircare brands heed the call.
But before you can find products that'll work for you, it's important to realize what causes dandruff, how to effectively treat it, and how to prevent it in the future. "Dandruff is also called seborrheic dermatitis, and it's thought to be caused by yeast that lives on the skin normally," Dr. Jennifer Vickers of Sanova Dermatology tells The Zoe Report. "That yeast feeds on the oils, or sebum, that our skin produces, leading to inflammation that manifests as redness, irritation, itching, and flaking."
In other words, it's not a dry scalp that's causing flakes. "Dandruff is an oil problem," Vickers says — and for some, it's unavoidable. "Unfortunately, it's caused by our genes," Dr. Joshua Zeichner of Zeichner Dermatology tells us. "In some people, the body reacts more to yeast on the skin then other people."
There are other factors that cause dandruff-like inflammation, though. Pollutants in the air can irritate the scalp, causing dryness and peeling; and product buildup can result in an itchy scalp, as well. "Bad news for all the dry shampoo addicts out there: If you don't regularly wash your hair, oils and skin cells from your scalp can build up, causing dandruff," Ed Valentine, the Managing Director of hair care brand NatureLab, tells TZR.
Since people tend to wash their hair less in the fall and winter (because who wants a cold, wet head of hair when it's 40 degrees outside?), it can seem as if dandruff appears more often in the colder months — but that's simply a function of behavior, and not the weather's effect on our skin.
"To treat dandruff, dermatologists target both the yeast and the inflammation," Dr. Vickers explains. "Dandruff shampoos that are purchased in a drugstore are definitely effective to treat inflammation, but some patients need prescription-strength shampoos or topical steroid creams for control."
A key ingredient to look for in over-the-counter hair care products is zinc pyrithione, which has been shown to eliminate the symptoms of dandruff and prevent future outbreaks with regular use. Dr. Zeichner recommends Dove DermaCare Scalp Dryness & Itch Relief Anti Dandruff Shampoo. "Think of it as a scalp treatment," he suggests. "Apply it with your fingertips, rub it into the scalp, and let it sit while you sing the alphabet, then rinse off. It needs enough contact time with the scalp to exert its effect."
Once you've cleared up a case of dandruff, it's time to shift your focus to prevention. "Seborrheic dermatitis can sometimes be prevented by increasing the frequency of shampooing," Dr. Vickers tells us.
Of course, that's not always a realistic option — especially for women with natural hair, who may only shampoo once or twice a week to preserve the health of their hair. In this case, add a pre-poo or scalp treatment to your wash day routine in order to target excess oil and product buildup. "Witch hazel as a pre-poo works wonders for my dry scalp, " Michelle Thames, a natural hair blogger, explained to NaturallyCurly.com. "Simply massage witch hazel directly on your scalp before you shampoo."
If it feels like dandruff is taking over your life, it may be time to book an appointment with a dermatologist for a prescription-level treatment. Otherwise, the latest luxury shampoos, conditioners, and stylers — like Oribe's Serene Scalp Soothing Leave-on Treatment, made with biotin to boost the growth of your hair, too — should have you covered.
Ahead, 16 of the prettiest — and most effective — dandruff-fighting products on the market.
Pre-Poos
Shampoos
Conditioners
Scalp Treatments
Stylers