This Derm-Approved Natural Skincare Line Counts Broccoli As Its Star Ingredient
Imaxtree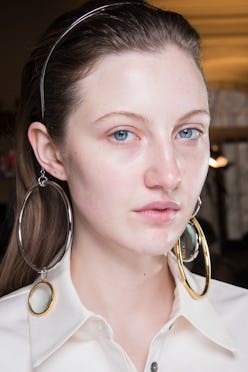 You make a point of choosing organic berries over conventionally grown produce; on a good day, you choose kale chips over the processed potato variety; you prefer to eat at farm-to-table restaurants — but maybe you haven't quite gotten into the all-natural skincare thing yet. Still, the concept of plant-based products that are free of irritants of preservatives is compelling. But the overwhelming variety of natural ingredients to choose from — coupled with the constant debate over their collective efficacy — is enough to make you cling to your trusty drugstore moisturizer.
L:a Bruket, a natural, non-toxic skincare brand born in Sweden, wants to change all that. Available in Europe and Asia for nearly a decade, L:a Bruket (which means "the small workshop" in Swedish) made its way stateside in summer 2018, bringing products like Broccoli Seed Serum, Fennel Seed Facial Wash, and Rich Carrot Facial Cream to our side of the world.
"The journey into natural cosmetics was fueled by an increasing fascination with the effects natural and organic ingredients actually have on your skin," founder Monica Kylèn tells The Zoe Report. A former ceramics artist, Kylèn stumbled into product development while looking for a "really great cream" that would help heal the dry skin on her hands.
"I was looking at the characteristics of some of the most nutritious plants and vegetables we have in food," she says of developing the range. "I thought that if it is good enough to eat, we should find a way to use and benefit from these super-ingredients in skincare."
And here's when the skeptics among us start asking questions.
The Key Ingredients
All L:a Bruket products are formulated with what Kylèn calls "super ingredients that you could also eat."
Some highlights include algae, which Kylèn says the brand cherishes for its hydrating and detoxifying properties; broccoli seed extract (which can fight free radicals, according to Kylèn), vitamin A-rich carrot seed extract; and more commonplace natural ingredients like jojoba oil and meadowfoam seed oil.
While there's no argument that the aforementioned natural ingredients are nutrient-dense, there is some debate about how effective they are when compared with chemically engineered ingredients, at least in terms of harder-to-tackle skin concerns like hyperpigmentation and aging.
How Effective Are The Ingredients?
"Algae is most famously known for its humectant, or moisturizing, capacity," Dr. Aanand Geria of Geria Dermatology in New Jersey tells The Zoe Report. He notes that it's also packed with vitamins A, B, C, and E, which combine to fight free radicals and fade dark spots. "I would say algae is better for the protecting the skin barrier than most synthetic ingredients, except for perhaps petroleum jelly — but it won't clog your pores, either." This dermatologist-approved ingredient can be found in L:a Bruket's Hydrating Face Mask alongside aloe vera and cucumber extract.
Dr. Geria endorses the efficacy of many of the other key ingredients in L:a Bruket's line up, as well. "Jojoba oil also has vitamin E and vitamin B, [both of which] help to repair and soothe inflamed skin," he says. "And fennel seeds have antiseptic, anti-inflammatory, and antimicrobial properties."
But the star ingredient is L:a Bruket's Broccoli Seed Serum's broccoli seed extract, which Dr. Geria calls a natural alternative to vitamin A-derived retinol. "BSE is high in vitamins and fatty acids, specifically, vitamin A and Omega-9, 6 and 3 fatty acids, which help absorb and retain moisture in the skin quickly without leaving behind a greasy residue," he explains. "There seems to be some truth to BSE promoting cell renewal and preventing signs of aging — it seems to do much of the same as retinol but without the irritation."
The final word? "These ingredients have the benefit of being more gentle than their synthetic counterparts, but there's no reason to believe they are any less effective."
Of course, this comes as no surprise to Kylèn. "In general, I always say that the secret of truly healthy skin is drinking lots of water, sleep enough, eat well, and spend time in nature," she tells us. "Then, we can help you to let your health shine through with our products."
Ahead, shop the all-natural, non-toxic, totally effective must-haves from L:a Bruket.