These Unisex Fragrances Ignore Gender Binaries — And Smell Really, Really Good
Angela Weiss/Getty Images Entertainment/Getty Images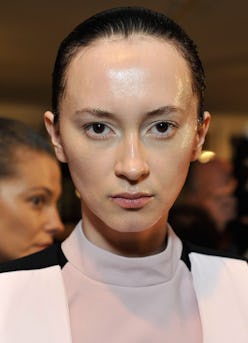 In 2018, the line between masculine and feminine — not just as genders but as connotations — is finally starting to blur. While we still have a long way to go, the fashion and beauty industries in particular are embracing unisex and gender-neutral products more than ever before: Spring/Summer 2018 Fashion Week collections that showed this time last year hinted at an androgynous blending of menswear and womenswear, Tom Ford has a line of men's makeup, and CoverGirl's first "CoverBoy" is already yesterday's news. Brands that dare to break the boundaries of gender binary are seen as pioneers — but fragrance did it first.
24 years ago, long before the term gender-fluid came into the zeitgeist, Calvin Klein released its first unisex fragrance, CK One, now famous for its clean, citrus scent. As the brand states on its site in a promotion for the just-reissued fragrance, it "both reflected and pre-empted a new mood in society — a blurring of gender boundaries, a fluid sexuality, a freedom from convention and the status quo, a breaking of rules."
Related: 18 Non-Floral Perfumes For Spring That Are Fresh & Surprising
Since then, unisex fragrances have quietly defied gender norms without stirring up the controversy that, say, a unisex skirt might.
Why's that? Perhaps because fragrance floats under the radar. Sure, some perfume packaging can still be considered gendered when you see it sitting on the shelf (think: Victoria's Secret anything); but out in the world, fragrance communicates who you are free of the traditional masculine or feminine connotations of a three-piece suit or a red lip. After all, who can say if the note of jasmine in Tom Ford's new gender-neutral Ombré Leather is inherently male or female? (Hint: No one.)
Don't let the subtlety of unisex fragrance fool you into underestimating its power, though.
A few months ago, my husband — a former Marine, who, for all of his amazing qualities, still holds to the traditional idea of what it means to be "a man" — ordered a Discovery Set from Le Labo, not realizing the samples were all unisex. When it arrived, we were both drawn to the same scent, Rose 31, which we passed back-and-forth between us. Sure, it's a small step; but I've seen firsthand how something as simple as cologne can propel an individual to (maybe subconsciously) reexamine long-held beliefs about the gender paradigm. I'm all for it.
Of course, breaking the binary doesn't have to be that serious. Modern apothecary Malin+Goetz just released the unisex scent Cannabis, a playful take on "what is familiar and accessible, to produce something unexpected and luxurious," founder Matthew Malin tells The Zoe Report. "It's green and spicy and rich and earthy with hints of smoke and bright bursts of citrus and florals. We imagined that men would easily gravitate, but, about 70 percent of our sales are to women."
Here, shop 16 fresh fragrances that disregard the idea of a gender dichotomy spectrum (and, you know, also just smell great).