11 Warm Fragrances Inspired By The Sunny City Of Los Angeles
Presley Ann/Getty Images Entertainment/Getty Images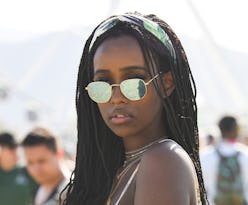 As the saying goes, no one's actually from Los Angeles. LA is mostly a city of transplants, a city built on dreams. For those who grew up watching Pulp Fiction and Clueless or listening to the Beach Boys while strumming a guitar, this dream of LA — with all of its Hollywood glamour, top-down convertible rides, and breezy beaches — is so vivid, you can almost touch it, feel it, smell it. Perfumeries around the world have attempted to bottle the elusive essence of the city with LA-inspired scents for years, and the recently-released fragrance from By Rosie Jane, Angie, nails it.
By Rosie Jane, a cult-favorite apothecary loved by quintessential Cali girls Jennifer Aniston and Cameron Diaz, described Angie in a press release as "a love letter to Los Angeles: day drinking with friends, warm nights, and easy living."
"Honeysuckle and jasmine are the notes that capture LA for me," founder Rosie Jane tells The Zoe Report. "In the spring there is an explosion of those two flowers all over LA, and everywhere you walk, you get a little surprise scent." She calls the fragrance "light and effortless" — which is exactly what I thought LA would be like when I moved here post-college.
I quickly learned that it takes some serious work to look so carefree. Yes, Los Angeles is day drinking with friends and flower explosions... but it's also being surrounded by heartbreakingly beautiful people at all times and wondering if 26 is an acceptable age to get Botox. It's having a job that sounds glamorous but mostly involves grabbing coffee. It's breaking down on the 405 and knowing that, in that moment, the entire city hates you.
It's funny how fragrance can transport you, though.
Upon my arrival in LA, I started working retail at a little jewelry shop on 3rd Street. It was right next door to Le Labo Fragrances' West Hollywood outpost, which flooded the entire street with its signature perfume: Santal 33. To me, this will forever be the scent of the city — smoky sandalwood and leather — but when I catch it, I don't remember the hour-long commutes across town or the 14-hour workdays.
I remember the sun on my face, slipping on my sunglasses to grab a coffee from Alfred, walking down Larchmont Boulevard, and taking in the most gorgeous sunsets I've ever seen (and shamelessly posting every single one to Instagram). For me, Santal 33 conjures up the feeling of hope and warmth and ease that comes from living in a world that's perpetually sunny and 75. It smooths over the rough patches and reminds me how it really feels, at the end of the day, to be a Los Angeles transplant: light and effortless.
I've since left LA in favor of the Joshua Tree desert (it has all of the good California vibes with none of the traffic), but when I spritz Santal 33, I know I'm still a Los Angeles girl at heart. Ahead, 11 scents that capture that same spirit of the city.