This New Online Tool Is Pretty Much A One-Stop-Shop For Trip Planning — And It's Free
Vlad Teodor/Shutterstock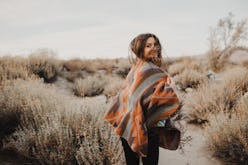 Gone are the days when planning a trip was a painful process. With the latest apps and other online resources, it's becoming easier — and actually more enjoyable — than ever to find the perfect flight, place to stay, and things to do in your desired destinations. And with one of the latest additions to the scene, you can do it all in the same place. The new Google Travel tools pretty much eliminate the need for you to book all the components of your next trip through different sites: Now you can tackle it all in one fell swoop. Basically it's like your own personal travel agent, except you don't have to pay for its services.
You might already be using Google's handy flight-booking feature or remember the days of the former Google Trips. Think of the newly revamped travel site as all of the above, plus a few nuanced tools that help you think of every detail of your upcoming trip — including your budget. First of all, you might notice when you land on the page that Google has tracked all your past trips (honestly how?). Before you get totally creeped out by that fact, know that it's helping the search engine know exactly what you tend to look for in terms of the type of hotel or how much you want to spend.
The new tools — including "When To Visit," "What You'll Pay," and "Where To Stay" options — make the the whole planning process exponentially easier, from finding your dream destinations based on weather, ticket prices through the year, and how crowded it gets to selecting the hotel or rental property that best suits your budget and other preferences (like its proximity to the area's best sites).
Another bonus, this super smart site remembers all your previous searches so you can plan little by little (or just for fun). So whether you've been trying to throw together a last minute Valentine's trip with your mate, daydreaming of wintery escapes to visit or solo, or you're beach bound with your best girlfriends, you can bet that finding your flight and place to stay will be the least stressful part of your vacation — for once.