This "Big Little Lies"-Inspired Airbnb Makes For The Perfect Getaway With The Girls
Craig Blankenhorn/New Line Cinema/Kobal/Shutterstock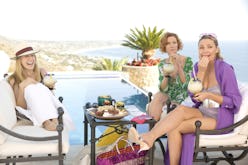 True friends are hard to find, and if you have a BFF or a supportive girl group, they're always worth hanging on to. So with warmer weather upon you (and perhaps, a stirring of wanderlust), try taking a breather from the stresses of life by planning a summer girls' trip that will strengthen the bond between you and your besties.
Whether it's a destination bachelorette party for the group's bride-to-be, a weekend getaway to reconnect after drifting apart, or the bucket list adventure you've been chatting about for years, make this summer one that you'll never forget.
If time or money is short, you can book a unique accommodation within an hour or two of your hometown and still feel like you're a world away. Or, maybe the timing is finally right to plan a "treat yourself" vacay and live the high life, even if it's just for a little while. Whatever the case, when you're with your favorite people, you're bound to have a blast.
Ahead, check out five to-die-for girls' trip ideas around the country. From an urban oasis in New York City, to an oceanside mansion à la Big Little Lies, to a build-your-own itinerary trip to Vegas (because, of course), read on for some major girls' trip inspo.
For The Glamorous Girl Squad || The Dream Downtown Hotel in New York, NY
For squads in search of luxe accommodations, access to designer shopping, an exciting nightlife experience, and even a poolside bar, this urban hot spot is the place to be. "Perfectly situated between Manhattan's chic Meatpacking District and charming Chelsea, Dream Downtown is the perfect hotel for a fun girls' getaway weekend featuring jaw-dropping views of the Manhattan skyline," says a rep for Dream Hotels. "Upon arrival, guests are invited to lounge at Dream Downtown's open and glamorous DJ'd lobby space, dressed up with striking furniture, a chic bar, eye-catching décor and overhead views of The Beach's glass bottom pool, setting the stage for an unforgettable experience."
By evening, gather the group to grab a bite at the onsite Bodega Negra restaurant, then head to the PHD Rooftop to party the night away.
For Girlfriends In Need Of A Self-Care Getaway || Sunrise Springs Spa Resort in Santa Fe, NM
Feeling stressed? Call up your bestie, your sister, your mom, or your whole crew, and get ready to indulge in relaxation. At the Sunrise Springs Spa Resort, all-inclusive packages make for easy planning and predictable pricing. "The Girls' Getaway Package [designed for two] and the Journey Together Package [for parties of eight or more] offer ladies their choice of accommodations, a generous resort credit that can be used for either spa, spiritual, or experiential sessions, unlimited access to daily activities including horticulture, yoga, and animal interactions, and all meals from arrival day dinner to departure breakfast," explains Mara Bouvier, Sunrise Springs Spa Resort's general manager.
In addition to offering staple experiences like massages, skincare treatments, and access to repose pools and a sweat lodge, you'll also have the option to enjoy energy healing, hypnotherapy, spiritual guidance, and yes — puppies and kittens to play with.
About 10 minutes from Monterey is this mansion in Pacific Grove that gives off serious Big Little Lies vibes. Thanks to panoramic ocean views and coastal walking paths outside the door, you'll feel like you're stepping into the lives of Madeline, Celeste, and Jane — minus the crime scene, of course.
Here, you and your BFF's will be within two miles of downtown Pacific Grove, restaurants, cafes, bakeries, the Pacific Grove Museum of Natural History, the Monterey Bay Aquarium, and the American Tin Cannery outlets.
After a day of exploring and sightseeing, head back "home" to sip wine on the balcony and gaze at the ocean. And depending on the day of the week, you'll want to be ready with snacks and (more) vino to stream the latest episode of BLL season two with your faves.
With off-the-ground entrances and natural surroundings, trendy treehouse accommodations offer the best of both worlds: the feeling of solitude plus modern amenities. On Glamping Hub, you can find affordable listings near your hometown or around the world, including this two-unit retreat that overlooks the Frio River in Texas.
With room to sleep 16 guests, you and your whole posse can unplug and unwind. Surrounded by natural scenery, you'll feel removed from the everyday hustle as you lounge on the patio or deck, soak in the hot tub, or take a dip in the clear river water.
During your stay, you'll be equipped with all the essentials: a fully-equipped kitchen, a bathroom with a jacuzzi tub, a marble wet bar, a barbecue grill, an outdoor drink cooler, and a fire pit (can you say s'mores?). And if you and the girls happen to get cabin fever, a thriving nightlife scene is just a short drive away.
For BFF's With Vegas On Their Bucket List || Las Vegas, Nevada
You and your besties can have the ultimate bonding experience in this bucket list city. According to Meghan Trangsrud, a guide architect for Wild Bum, publisher of curated travel guides that go beyond the cliche tourist traps, girl groups with any vacation style or budget can plan a memorable getaway to this desert destination.
You and the gals can choose from luxe accommodations at renown hotels like the The Venetian Resort or Aria, or stay in an affordable Airbnb. Some unique things to do: Catch incredible performances by Lady Gaga and Bruno Mars (depending on the time of year), visit the South Rim Grand Canyon, and swing by the Pawn Stars store. You'll find no shortage of shops and places to eat both on and off the beaten path, and by nightfall, hit the slots and club-hop until dawn. Check out the Girls Trip to Las Vegas Wild Bum Guide for insider info on the best places to eat, sightsee, and hang to plan the perfect getaway for your crew.