The Beach Vacation You Need To Book If You Miss The Summer Weather Already
Courtesy Of The Caves Hotel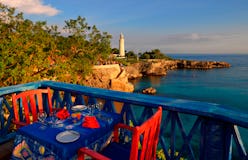 Even though fall is still in its earliest stages (in some places it hasn't even been cool enough to bust out the sweaters), it's never too soon to start dreaming of an escape. As travel enthusiasts know, planning a getaway offers the opportunity to remove yourself from your daily surroundings and routines — namely, work and other obligations — and recharge by exploring totally new surroundings. And when it comes to finding such respites around this time of year, an all-inclusive beach vacation is always a good idea.
Unless you've got a beach in your backyard (and if so, congratulations on life) the sand and sun vibes never seem to get old, but arguably the best way to enjoy them when you want the five-star treatment is with an inclusive hotel. Whether that means tossing meals, private beach access, or on-site wellness amenities into your nightly rate, some resorts just know how to pamper (without you having to leave the premises) a little better than the others — and shockingly, they're not all out of your price range.
Leave it to the travel pros to help you zero in on a few winter-worthy vacation destinations that involve some beach-y good times but won't blow your budget. And while your plans for the foreseeable month or so might be made, late-fall and early winter getaways are still up for grabs ... and calling your name. Ahead, find five inclusive hotels that ought to provide the seasonal escape you crave.
According to Emma Leggat, communications director for HotelTonight — a go-to source for saving a ton on accommodations wherever you're headed — Mexico offers the weather you're seeking when winter starts feeling a little too chilly. One of her favorite spots there? Tulum. "Eco-friendly and hip Tulum is emerging as one of the hotter destinations in Mexico and similarly boasts a great mix of good weather, fewer crowds and great hotel rates in the fall," she explains, adding that the colder months are "an ideal time to visit the historical ruins of Coba, Chichen Itza and Ka'an and other natural attractions."
As for where to stay, Leggat loves all-inclusive resort Kore Tulum, which is an adults-only boutique hotel that boasts stylish suites, a picturesque infinity pool for optimum lounging, free bikes to explore the town on, and an on-site spa for touch-ups and treatments.
Cocktails by the Caribbean? Yes, please. Melia's Grand Reserve at Paradisus Palma Real in the Dominican Republic not only affords you that luxury, but the hotel also offers a high-end spa where you can totally bliss out, a water park, an exclusive beach club, a fitness studio (for those of you who like to stick to a fitness regimen even on vacation), and more without having to set foot off the property. The new property will be available for bookings in December — just when you'll be most ready to get out of town and hit the beach.
Staying in the West Indies seems ideal (and it is!) but, travel editor Kate Wertheimer suggests there are a few things to consider when planning a winter excursion to the Caribbean. Late fall can be the season for rainfall — but if you can stand the risk, there might be tremendous payoff. "Shoulder season — sounds nicer than 'rainy season,' doesn't it? — means more grey days, and therefore fewer tourists, so businesses either shutter or drastically lower their prices," she elaborates, "If you're the type who's not bothered by a sleepy town or a few rainy days, and if you know there are no hurricanes on the way, head south and get to know the locals in a way you never would during the high season." That said, come December and January, rainfall starts to decrease, so this could also be an ideal time to catch some sunshine.
One dreamy place to crash in Antigua is Curtain Bluff, an award-winning, beachfront resort that includes meals, water sports and activities, fitness equipment and classes, and more for the inclusive nightly rate.
Anytime is a good time to visit Jamaica. However, according to U.S.News, the best time to visit is November to mid-December, as "that's when the island's already beautiful weather (ranging from mid-70s to the high 80s all year-round) is the most pleasant and the hotel and flight deals are the easiest to find." And since rates for hotels and flights spike in the peak season between January and March, it's best to get your getaway in before the New Year to ensure the best deal.
All that said, your hunt for a picturesque sanctuary to unwind just got a lot easier, as The Caves literally has it all. First, the view: The 11 thatched cottages and suites at the resort are dotted along the pale stone cliffs, surrounded by dogwood and sea grape trees. And, in terms of accommodations, things like outdoor showers and sitting areas, oversized soaking tubs are all at the ready, as well as authentic Jamaican cuisine that includes savory local dishes such as rock shrimp with sautéed calalloo, stuffed crab shells, and Jamaican jerk chicken.
Evan Godt, editor for travel resource Lonely Planet suggests a trip to Fuji for an ideal escape this season, as it's an ideal time, "to find balmy temps, relative isolation and cheaper deals on accommodation," he recommends. As for why the winter is a great time to visit the South Pacific destination specifically, Godt explains, "It's after peak season, but still pleasantly cool and dry. You'll find [better rates] as well as fewer people."
Fiji's Koro Sun Resort is an all-inclusive hotel that offers a few different dining options (meal additions can be included in your rate), a dive shop and staff to guide you through scuba diving, gardens that grow organic ingredients for many of your meals, a golf course, and a rainforest spa with treatments inspired by native wellness practices.