There's Always Paris, But Don't Overlook This Unexpected City For A Romantic Valentine's Day Trip
Charday Penn/E+/Getty Images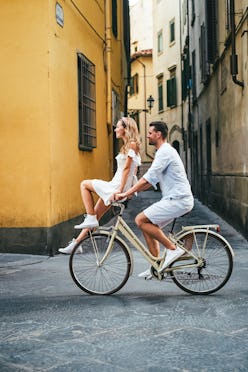 The holidays are great and all, but, in all honestly, they can cause quite a bit of stress: From the furious race to finish your gift shopping to the time spent with extended family. That's why getting away from it all after the new year can be such an important time to reset — particularly if it's a means of getting more one-on-one time with your mate. And with another romance-focused holiday right around the corner, planning a Valentine's Day getaway might be just the thing to help you both decompress and reconnect.
A truly great couple's trip can mean so many different things. For example, adventure seekers might look for a place that's got ample opportunities for outdoor activities like hiking and biking. You also might consider wellness-focused spa resorts that don't just pamper your outsides, but often offer workshops that can strengthen your bond (think private yoga sessions or equine therapy).
Still need a little more direction? The team at CIRE Travel has a ton of ideas for romantic getaways — from the tried-and-true (you can probably guess a few) to the less expected. Their suggestions run the gamut from bucket list destinations to relaxing beach vacations, so you're likely to find the perfect setting for you and your partner among the nine stellar options ahead.
Venice, Italy
For founder and president Eric Hrubant, it's tough to beat the beloved Italian city when it comes to romance. That said, going this time of year means you'll get to avoid some of the usual hustle-and-bustle. "It may be cold in February, but wandering around the cobblestone streets of Venice without the crowds is very romantic," he says. "The hotel rates are much less than they are during the peak summer months and it's easy to get into some amazing restaurants."
Paris, France
Katy Rebrovich, senior leisure agent, recommends another classically romantic spot, Paris. "It seems like a cliché to head to the self-proclaimed most romantic city in the world for Valentine's day, but there is still great availability to be had, and what a way to woo the person you love," she says. "Paris is a perfect getaway for a long weekend. Consider staying at the stunning Hôtel Plaza Athénée with dinner at its Michelin-starred restaurant to really make an impression. A romantic walk along the Seine, a kiss in the shadow of the Eiffel tower and, of course, some of the best patisseries in the world!"
Reykjavik, Iceland
"It's cold and dark this time of year, so embrace its beauty and head to Iceland," says Rebrovich. "A few nights in Reykjavik, a dog sled journey out in to the wilderness, bundled up in blankets with the one you love, and, if you're lucky, a breath-taking view of the Northern Lights." There's also the infamous Blue Lagoon nearby for likely the most memorable soak you'll ever have together.
New Orleans, Louisiana
If intercontinental travel isn't an option for you, head down south to the artistic, eclectic city of New Orleans. "Let your hair down together and explore the famous Bourbon Street and discover the cultural history that makes this city so enticing," says Rebrovich. "And since the way to a person's heart is often through their stomach, indulge your taste buds in those New Orleans favorites: Beignets, Po' Boys, gumbo and jambalaya — guaranteed to spice up your romantic getaway!"
Maui, Hawaii
"Maui is my choice for immense tropical beauty and a romantic, sun-filled getaway," says CIRE's Esther Klijn. "Visit the lavender fields on the way up to Haleakala, which is far less windy and intimidating than the drive to Hana. After a day of adventuring, wind down on the beach to watch the sunset (Mai Tai in hand) before heading to Fleetwood's on Front Street for dinner."
Madrid, Spain
If Venice and Paris are a bit been-there-done-that for your taste, Klijn suggests this Spanish city for the perfect in-between, yet under-the-radar spot. "Get lost in the streets of the Literary Quarter or stroll through the Malasaña neighborhood, with no shortage of quaint shops, cafes, and wine bars to people-watch from," she advises. "Take a row boat out to Retiro Park Lake after strolling about the city. And whether you plan it or not, you'll find yourself involved in some sort of flamenco dancing one evening."
New York City, New York
NYC-based Jason Villacres admits he might be biased, but he stands by the fact that the city is one of the most romantic spots in the world. "First, it has one of the most epic skylines on planet Earth, " he explains. "Secondly, the food. NYC has some of the best restaurants in the world! It's really hard to make a bad choice. After dinner, go for a memorable horse and carriage ride in Central Park or go ice skating in Rockefeller Center, Bryant Park, or Central Park. Or combine your meal with an activity and take a romantic dinner cruise around the city."
Hamilton, Bermuda
For couples on the East Coast looking for a quick and easy getaway, Villacres suggests a trip to Bermuda's capital. "After only a one-and-a-half-hour flight from the NYC metro area, you arrive to an oasis: Warmer weather, beachside dining, and swaying palm trees," he says. And as for where to stay? "The Hamilton Princess is a personal favorite; They'll treat you like royalty."
Bruges, Belgium
"I think Bruges is one of the most romantic places I've visited," says Amy Brueckner, CIRE's Chief Operating Officer. "It's much less crowded than Brussels and so lovely with its winding streets and charming bridges. Go café hopping and enjoy local beers and artisan chocolate. Take a romantic canal ride. Explore the shops, squares, museums, and famous bell tower."