This Unexpected City Is Actually Perfect Getaway For A Quickie Valentine's Day Trip
CarlosDavid/Shutterstock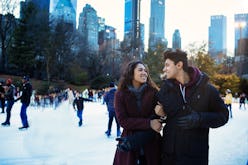 Whether you buy into it or not, the so-called most romantic day of the year is right around the corner. Still haven't made plans for you and your significant other? Don't start stressing just yet. With a few ideas for last-minute Valentine's Day getaways, you can give him or her something a whole lot more memorable than a box of chocolates or another couple's massage — not that either of those is ever a bad idea.
Of course there are the quintessential vacations for lovers, like Paris, Venice, and Rome, but you don't have to hop on an international flight just to have a scenic and memorable place to reconnect and get romantic. In fact, plenty of domestic spots offer their own unique charms when it comes to setting the mood, whether cozying up in a classic winter wonderland, sipping cocktails by the beach, or soaking up a desert sunset is you and your partner's idea of romance.
You could probably make a case for a town in every state, but based on factors like cheaper flights and availability of activities that that especially cater to couples, some cities might make better choices than when it comes to booking last minute. And while you may already have guessed one or two, there are a few less expected options to consider if the you and your love want to explore something totally different for a change. Ahead, find five US cities that make for quick and easy-to-book getaways — and your S.O. will never even know you planned it so late in the game.
New York City, New York
Ice skating in Central Park, exploring the city's unbeatable museum scene, taking in a Broadway show, or simply sharing a slice: There are endless options for couple's activities in the Big Apple. And with Valentine's Day weekend flights starting at under $250, a trip here also doesn't have to cost you and arm and a leg.
Tuscon, Arizona
Since the unveiling of Tucson's coveted new rental home Posada, the desert town has been on everyone's radar. But whether or not you're able to book a stay at the stylish property, you and your love can stroll through Saguaro National Park (where the cacti are pretty spectacular) book a couple's treatment at buzzworthy spa Miraval Resort, and check out a ton of historic sites — with sunny, warm weather to boot. Flights around Valentine's Day can cost you under $200.
Salt Lake City, Utah
Salt Lake gives you a taste of city life and all the winter vibes, so you can ski during the day and dine at one of many acclaimed eateries in the evening. Pro tip: Book a rental or room with your own jacuzzi so after your meal, you can do some stargazing while keeping warm in the tub. What's more, mid-February you can even find roundtrip flights here for under $200.
Honolulu, Hawaii
As if you needed a reason to head to Oahu, flights to Honolulu average around $400 this time of year, so it's as good a time as ever to book a trip here. The beaches and hikes are some of the best you can find in the country, so this is a great option for adventure seeking couples as well as anyone who just wants to be totally submerged in nature.
Las Vegas, Nevada
Vegas is pretty much always a good option when you're looking for last-minute getaways, as it's easy to find great deals for both hotels and flights (which average under $150 for Valentine's Day weekend). If you and your partner love the nightlife and are looking for a place to be totally indulgent as a way to celebrate the holiday, it really doesn't get any better.