The Kosas Makeup Products That Minimized My Routine To 3 Steps
Kosas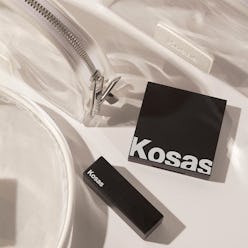 I have a complicated relationship with makeup. When I was younger, I loved it, covered myself in it, couldn't get enough of it. After dealing with some chronic skin issues (and subsequently learning about some of the toxic ingredients used to make makeup), I swore off cosmetics for months. Now, I'm slowly making my way back to a regular beauty routine with the help of a few of the best Kosas makeup products. Three in particular have become my new must-haves — because they're clean, non-toxic, and above all, genius.
To be clear, "clean" and "non-toxic" are kind of made-up words that have no real definition in the beauty space, since neither term is regulated by the Food & Drug Administration. Every brand and every consumer will define them differently, but in Kosas' case, "clean" and "non-toxic" translate to mostly botanical-based ingredients and a ban on anything that's been shown to potentially harm the human body. The brand cuts out nut-derived substances, too, since the founder's daughter is allergic. How cool is that?
For my personal beauty routine, the number one priority is a safe ingredients list — but in order to truly earn my love and devotion, products need to be easy-to-use, effective, and long-lasting, as well. This trio checks every box. Ahead, the three best Kosas products of all time (in my humble opinion, of course) — and exactly how I use them to create a five-minute face.
Kosas Tinted Face Oil
If there's someone out there who loves a face oil as much as I do, I haven't met them yet. Needless to say, when Kosas released its Tinted Face Oil featuring jojoba, avocado, and red raspberry oils plus skin-blurring pigment, I was sold.
The Tinted Face Oil has a true oil texture, but dries more matte than expected (you still get a nice glow, though). I treat this as the last step in my skincare routine and layer it over my Kari Gran Three Sixty Five SPF 28. Since it's so light and oily, I find that applying it with my fingers is fine; sometimes I use a Beautyblender to buff things out.
It covers redness and blemishes, lasts all day, and magically makes my skin look completely bare… but better.
Kosas Color & Light Palette in 8th Muse
The rest of my face comes down to one teeny-tiny palette: the Color & Light Palette in 8th Muse. First, I take the highlighter shade and tap it under my eyes (yes, I use cream highlighter instead of concealer under my eyes — and my dark circles have never looked better). Then, I swipe it across my cheek bones and brow bones, on the high points of my forehead, and down the bridge of my nose; all with my ring finger, since that one has the lightest touch.
For blush, I dip my middle finger into the pan, dab the cream formula onto the apple of my cheeks, then gently tap and pull the color out toward my temples for a super natural-looking flush.
Kosas Weightless Lip Color in Phoenix
If and when I'm feeling fiery, I top off my low-key look with a swipe of Kosas' Weightless Lip Color in Phoenix. I'm not going to lie: I started using this after hearing Gwyneth Paltrow say it was her favorite lipstick on the Goop podcast — and she's totally onto something here. I love how this lipstick feels creamy but stays on my lips without bleeding. It fades, for sure, but it fades evenly. After a few hours of wear, I've got a nice little lip stain going on.
That is the extent of my makeup routine lately (although sometimes I add a touch of ILIA Limitless Lash Mascara), and it couldn't be easier. Or cleaner. Or more Gwyneth Paltrow-approved.
Ready to find your own Kosas faves? Shop the best of the best, below.
Shop Kosas