RMS Beauty's Cult-Favorite Blushes Just Got A Powder Version
Courtesy of RMS Beauty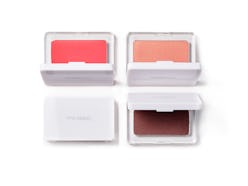 As sustainability and wellness become more prominent in the beauty industry, it's almost impossible not to be concerned about the ingredients that go into your makeup and skincare routines — especially when plenty of clean beauty brands have been rising to the surface. However, if there's one brand you must know, it's RMS Beauty, a favorite among the beauty-obsessed for its natural makeup. And now, RMS Beauty has added Pressed Blush to its repertoire.
Chances are, you've heard about RMS Beauty at one point or another. Fans of the beauty and wellness industry like actress Stephanie Simbari and KORA Organics founder Miranda Kerr have long turned to the brand staples like its best-selling "Un" Cover-Up concealer and other products, and it's proven time and time again that it's possible to create clean beauty that really works.
The certified organic beauty brand makes its products with raw, food-grade, and organic ingredients that anyone — whether they're interested in clean beauty or not — can appreciate. In fact, the brand's Living Luminizer and cult-favorite Lip2Cheek each have near-perfect ratings from its customers. Keeping these two beloved products in mind, RMS Beauty developed its Pressed Blush, which will probably become a go-to item in your makeup bag pretty quickly now that it's launched.
The brand's new Pressed Blushes — which are available in three different shades for $24 each — are made without using any heat exposure, leaving the ingredients in their natural state. As a result, these pressed powders will provide you with the hydrating feel of a cream blush while giving you the option to apply as much or as little to your face as you'd like.
For an effortlessly chic look, dust Lost Angel, a light coral with gold undertones, onto your cheeks. Wear it for everyday occasions such as a day at the office or weekend brunch with your friends. In case you need something with more color, you'll love Crushed Rose. Brush the vibrant pink shade onto the apples of your cheeks for a classic flush, or build up the pigment for a more playful look.
Of course, there are also moments when you want to add a touch of drama to your makeup routine — in which case, Moon Cry is just what you need. At first glance, the deep plum shade with gold undertones may be a little daunting. But, thanks to the lightweight formula, a few swipes of this seductive color will feel utterly sophisticated on any skin tone.
Ready to add these into your beauty closet? Scroll down to shop RMS Beauty's Pressed Blushes below.