I Tried Dior Beauty's New Wild Earth Collection — & Honestly, Wow: Review
Jessica L. Yarbrough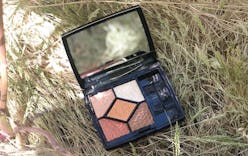 I haven't worn makeup in three months. At first, it wasn't a conscious decision — I just wanted to give my skin the chance to breathe and maybe stop breaking out so much — but as the days went on, I found I liked the no-makeup thing. It was easier to get ready in the morning. I started embracing features I used to cover up, like my under-eye circles (which I'm now kind of into?) and my freckles. Plus, going makeup-free just works with my earthy, boho style. But when I realized the Dior Wild Earth Collection summer 2019 makeup collection had a "Wild Earth" theme, I felt the familiar pull to play with a palette again.
There's nothing I love more than a good earth tone, and with Wild Earth, Dior basically takes earth tones to the next level: Think rich, golden highlights; shimmery bronze shadows; and hints of glimmering aqua blue. I decided to (slowly) make my way back into the land of the glam with the Dior Flash Luminizer Radiance Boosting Pen in Pearly Gold, a creamy, brush-on highlighter; and the 5 Couleurs Wild Earth Limited Edition Palette in Sienna, a mix of five desert-toned shadows. Both are low-key enough to match my "earth mama" vibe — but elevate it just a little bit.
Initially, I intended to use the Flash Luminizer as a highlighter, dotting it in the inner corners of each eye for a subtle glow. But after reading that it "highlights and corrects signs of fatigue" like "dark areas and circles" on the packaging, I put its light-reflecting power to work on my under-eye area in lieu of concealer (above) — and now, I may never wear concealer again. This formula is more lightweight and easier to blend than the under-eye products I traditionally use, and doesn't feel cakey at all. Instead, the pearlescent gold cream brightens up dark circles just enough to still look totally natural.
I swipe this stuff all over my face, as well: inner corners, brow bones, cheekbones, the bridge of my nose, and cupid's bow. And even though I tend to find click pen applicators to be a little messy, Dior's seems pretty much perfect on first use. A single click is enough to highlight both brow bones and the bridge of my nose without leaving excess product behind on the applicator.
The 5 Couleurs Wild Earth Limited Edition Palette in Sienna is the real stand-out, though. With these five shades (described as "a range of tawny colours for a natural and luminous ombré effect" on Dior's site), I'm able to create three distinct looks in about as many minutes. A mixture of of Gold Pink, Gold Vanilla, and Copper makes for the ultimate everyday eye (top); a heavy application of Bronze gives me a warm, fiery smoke-out (above); and an all-over dusting of Warm Gold looks exactly like that sparkly golden eyes filter on Instagram Stories… without a filter (below).
You know how some shadows get a little crumbly as soon as you slide a brush or finger over the shade you want to use? Yeah, there's none of that here. These powders are finely milled and tightly packed — meaning, there's zero fallout and they feel downright silky. On top of that, the formula is super long-wearing. In my experience, a damp cotton round does nothing in the way of makeup removal — I have to use a cleansing balm to get the color off. Basically, you can rest assured this shadow will last all day (or night) without running, smudging, or fading.
While I'm probably not about to go back to wearing makeup every day, Dior's Wild Earth collection reminds me that sometimes, it feels good to add a little extra glow.
Shop Dior Summer 2019 Makeup