Meet Prima, A New Wellness & Beauty Brand Set On Demystifying CBD
Courtesy of Prima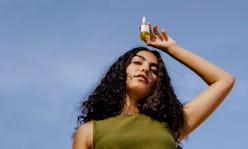 When I jumped on the phone with Christopher Gavigan and Jessica Assaf — two of the three co-founders of the new wellness and beauty brand, Prima — the first topic of discussion was my knowledge of CBD. The team had one question for me: How much did I know about the popular plant-based compound? My answer: not as much as I'd like. I'd tried it, researched it, and read stories by other writers at The Zoe Report who have extensively covered it. As you're probably well aware, it's the It ingredient of the moment, popping up in everything from seltzer water to bath bombs. And yet, the fact that CBD is in dog treats and skincare products is confusing. CBD can feel like a moving target; it's all the rage, and yet still a mystery to most.
Prima's team has set out to change that. It launched June 5 with three products, together of which exemplify the two sides of CBD the world can't get enough of — beauty and supplements. You may not notice them right away when you visit Prima's website, though; it's a thorough read that includes an in-depth CBD FAQ, a cannabis terms glossary, and an entire section called Hemp 101. With education in mind, Prima's status as a certified B Corporation (or public benefit corporation) is pending and, if granted, would make it the first hemp wellness brand to take such a step.
"Businesses have a moral imperative to act — swiftly and with clear intent on issues of today. Being a PBC codifies and clarifies this commitment and helps guide business decisions and actions," Gavigan, who also serves as Prima's CEO, tells The Zoe Report over email. "Prima absolutely must do our part to create new pathways of inspiration and leadership for this newly emerging market." (You can read more about Prima's public initiatives on its website, too.)
And if Prima is on a mission, then its skincare products could be considered its first line of education. At its launch, the brand introduced a $38 skin butter called Skin Therapy and an $88 face oil, Night Magic. They're dermatologist-tested products with claims that are easy to buy into, whether you care about the exact dosage of cannabinoids involved or not: They'll hydrate, soften, and brighten skin thanks to rich butters, plant oils, and, of course, CBD.
"The Skin Therapy was inspired by a dream cream Jessica had been personally making for years for family and friends, but it took us a really long time to really perfect — we went through at over 50 different versions before we found our perfect formulation that did everything we really wanted it to in terms of deep moisture and hydration and calming benefits while still feeling incredibly luxe," Laurel Angelica Myers, Prima's third co-founder, tells The Zoe Report over email.
But Prima's CBD supplement, The Daily, invites you to interact with CBD from the inside out. One $45 jar contains 30 vegan softgels filled with Prima's proprietary blend of palm monoglyceride, organic hemp seed oil, clove bud oil, black pepper berry essential oil, and turmeric root essential oil (in that order).
"The Daily is made with our organically-grown broad spectrum hemp extract rich in naturally occurring CBD, with 15 mg cannabinoids per softgel," Myers says. "During the extraction and purification process we've filtered out any THC to below limits of qualification, so there's definitely not a high. The effects can be calming, mood boosting, balancing — but certainly not intoxicating."
One little gel may be able to do all that? Although he hasn't been involved in studies of this exact product or CBD specifically, Dr. Frank G. Gress, MD at Mount Sinai Hospital, was able to break down the supplement's ingredients. "Palm oil is a monoglyceride and are emulsifiers, which means they help oil and water to blend. As a result, they're commonly used as food additives. Small quantities are often added to packaged and frozen foods to improve texture and stability, prevent oil from separating, and extend shelf life," Dr. Gress explains via email. "The rest are essential oils or aromatic oils that have been used for years for all types of ailments. Clove and black pepper berry are essential oils that have been said to help the digestive tract with all types of ailments but mainly reflux. Turmeric and curcumin are anti-inflammatory natural herbs."
With one important note, too. "Many herbal remedies such as these make claims that are usually not supported by research data nor are they required to do so by FDA. Health, beauty, and wellness products use this loophole and many times advertise vaguely to avoid making outright claims," Dr. Gress says. "I tell my patients that most of these remedies are not proven to work but don't seem to be harmful or interact with medications — but we don't know for sure because they haven't been studied in great detail, if at all."
That said, it seems like a new era of detail-oriented CBD is on the horizon, and Prima may be leading the pack. I received Prima's three products a few days before its launch, and quickly realized that Skin Therapy was my nightly routine's missing puzzle piece. It's seriously thick; I've been applying the smallest dab to where my skin was dry and red around my nose. Key word: was. Because although my face is still adjusting to the warmer weather, my irritated, flaky skin has been completely smoothed over.
It's almost like magic. However, it's something that I — alongside Prima's fast-growing follower base — am quickly learning to actually understand. Ahead, all three products from Prima's launch, available on Prima.co.
Readers should note that the regulations and data surrounding CBD are still developing. As such, the information contained in this post should not be construed as medical or legal advice. Always consult with your doctor before trying any substance or supplement.