This Unexpected U.S. City Is Voted One Of The Healthiest In The Country
Joshua Resnick/Shutterstock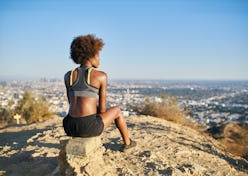 Where you live is without question a majorly contributing factor to your lifestyle — and it can effect everything from your income to what your weekend plans consist of. That said, it can also be a huge part of how healthy (or not-so-healthy as the case may be) you are. While things like your diet and how active you are certainly vary from person to person no matter where in the world you are, your surroundings might have a bigger impact on them than you think. And as for the best cities for health and wellness in the United States, while some that top the list you probably could have guessed, others are honestly pretty surprising.
Recently Life Storage shared a study based on data from Yelp that looked at factors including the availability of nutritionists, gyms, hiking trails and parks, healthy eating options (including those for vegan/vegetarians), farmer's markets, and juice bars to determine which U.S. cities were the best for health conscious types. Just as is the case with another recent study that listed the most and least stressed cities in America, there's obviously other criteria to look at — but this information is helpful to those looking to move or even visit a place that's conducive to their desired lifestyle, which in this case includes the accessibility to current health and wellness trends.
Before getting to know the top 10 healthiest cities, according to this research, it's equally informative to examine those at the bottom of the list. Providence, Hartford, Birmingham, Memphis, and Oklahoma City fared worse based on the aforementioned criteria. As for the tops? Read ahead to see if your city made the cut.
Los Angeles, CA
Overall, LA ranked a 50 out of 50 based on the criteria, which landed it in the top spot. The city's abundance of farmer's markets, hiking spots and parks, plus the fact that it boasts the highest number of nutritionists were major contributing factor. Want to know more about how Angelenos do wellness? Check here for some of the trendiest spots to visit when you're in town.
New York, NY
If you suspected that NYC would make it to the top of the list, you'd be absolutely right. With a whopping 48.9 score, the city ranked highest for amount of juice bars, vegan and vegetarian restaurant options, and healthy eating options on the whole.
Chicago, IL
Clearly a very active place to live, the Windy City offers an impressive amount of gyms (in fact, it's ranked third in the category), plus it has plenty of options for parks and trails if you like walking, biking, and hiking.
San Diego, CA
San Diego doesn't just afford its residences ample access to outdoor activities, given its beaches and scenic hiking trails, it also ranked third for healthy eating options, which includes tons of plant-based eateries.
Philadelphia, PA
Philly might not immediately come to mind when thinking of the healthiest American cities, but given the fact that it ranked third for the number of farmer's markets, and boasts an impressive list of healthy dining spots, it's no wonder it landed at the top.
San Jose, CA
The Bay Area city boasts a ton of of hiking trails and parks to keep its residence active outdoors.
Dallas, TX
With much to offer in the way of gyms and healthy eating options, Dallas might be a healthier place to live (or visit) than some would have expected.
Miami, FL
It probably doesn't come as much of a surprise — based on the gorgeous weather and therefore year-round opportunities for swimming, walking, biking, etc. — that Miami ranked as one of the healthiest U.S. cities. You also won't have a hard time tracking down a place to work out or grab a healthy meal while you're here.
Houston, TX
Looking for a city that's got a wealth of healthy eating options? Houston's got you covered on that front, which is part of what landed it in the top 10.
Seattle, WA
Seattle's landscape makes it a great place to walk and hike, which was a major factor for its high ranking.