How To Do Wellness Like An Angeleno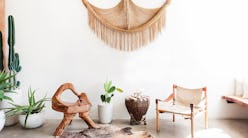 I was born in Los Angeles, and I've lived here my entire life. I've also been vegan for nearly a decade, and I earnestly embraced all things wellness long before it became a buzzword. I would burn nag champa in the comfort of my room while eating homemade kale chips, hoping that one day we, the so-called weirdos, would become the cool kids.
Fast-forward to today, and wellness is hotter than the Hermès Collier de Chien at its peak. Juice bars are the new coffee shops, metaphysical centers are as busy as Downtown LA sample sales, rose water is recommended more often than water-water, a new mystic gathering pops up every season and coconut oil is the answer to everything. Everyone wants to better themselves, and it's a beautiful thing.
Whether you're just getting started in the world of LA wellness and feel overwhelmed by options or you're a seasoned guru visiting from out of town and want to connect with like-minded people, allow me to guide you to nine tried-and-true spots that get it right.
Lead image: The Now
How To Be Well In LA
Place 8 Healing
Dreamed up by local crystal healer Azalea Lee (a former wardrobe stylist and costume designer), the gorgeous space is home to a variety of Azalea's by-appointment services as well as a metaphysical retail mecca filled with crystal sets and gem-infused elixirs. Prices range from $50 for a Crystal Pull (a personalized crystal selection service) to $400 for a flower-essence consultation.
120 East 8th Street, Suite 902, Los Angeles. Friday, 11am to 6pm; Sunday, 12pm to 6pm; or by appointment.
Pause Float
You know that euphoric moment when you're floating on your back in a swimming pool? There's now a place where you can relive it anytime you need to instantly de-stress. Pause Float's 60-minute flotation therapy sessions feature an enclosed tub, tranquil music and 10 inches of body-temperature water blended with therapeutic Epsom salts. This is next-level holistic healing.
13353 Washington Boulevard, Los Angeles. Every day, 10:30am to 10:30pm.
The Den Meditation
Ask any wellness guru what keeps her grounded, and she'll more than likely say meditation. There are tons of centers for this in our city, but The Den is the least intimidating, and the staff have made it their mission to normalize the practice. Pro tip: The popular Lunchtime Detox class takes place at 1:15pm every weekday and lasts just 30 minutes—perfect if you work in an office nearby.
360 South La Brea Avenue, Los Angeles. Monday, 8:30am to 9:30pm; Tuesday, Wednesday, 9am to 10:30pm; Thursday, 8:30am to 10pm; Friday, 8:30am to 10:30pm; Saturday, 9am to 8pm; Sunday, 9am to 9:30pm.
The Detox Market
If toxin-free beauty is on your wellness agenda, The Detox Market is filled with chic options that revolutionize the way we look at organic products. Categories range from skincare and haircare to makeup and fragrance, all stylishly packaged, proving that green beauty isn't just burlap bags and leaf logos.
8380 Beverly Boulevard, Los Angeles. Every day, 10am to 6pm.
The Now
Thanks to The Now, Tulum's relaxing vibes are never far away. This vacation-inspired massage boutique elevates the wellness experience by offering unique holistic treatments in a luxurious setting. Prices start at just $35 for a 25-minute massage, which is a major deal given the number of Instagram likes you'll receive after posting a dreamy photo from your visit.
7611 Beverly Boulevard, Los Angeles. Tuesday through Sunday, 10am to 10pm. Closed Monday.
The Springs
This one-stop oasis features a juice bar, a restaurant, yoga, holistic services and a space to hang with your like-minded friends. Where else can you grab a healthy lunch, experience a sound bath, learn about essential oils and get a gravity colonic all in one place?
608 Mateo Street, Los Angeles. Monday through Friday, 7am to 8pm; Saturday and Sunday, 9am to 6pm.
Shape House
There are more ways to detox than just drinking green juice. A hot (literally) and locals-approved treatment is Far Infrared Therapy, featured at this popular urban sweat lodge. You get wrapped like a cozy burrito, lay down and watch TV or listen to tunes. After a little less than an hour of blissfully zoning out and doing nothing, your sweaty body has done everything, and in turn you've burned tons of calories, scored glowing skin and reduced stress.
434 North Larchmont Boulevard, Los Angeles. Monday through Wednesday, 8:30am to 10pm; Thursday, 3pm to 10pm; Friday through Sunday, 8:30am to 10pm.
Spellbound Sky
If you're simply looking for somewhere to buy guru-approved crystals, essential oil potions and ritual candles, Spellbound Sky is a local favorite that's often imitated but never duplicated. In addition to being a metaphysical enthusiast's playground, the spot also offers a series of guided meditations and workshops at its sacred space on Myra Avenue.
4210 Santa Monica Boulevard, Los Angeles. Monday through Saturday, 12pm to 6pm; Sunday, 1pm to 5pm.
Window Of The Sky
Eagle Rock scored big with the arrival of this sublime space. Founded by licensed acupuncturist and herbalist Caren Motika, it offers handpicked gifts (candles, oils, incense, tea, jewelry and more) in addition to unique holistic services that range from floral acupuncture to bio-dynamic cranial sacral therapy.
4706 Eagle Rock Boulevard, Los Angeles. Thursday through Saturday, 12pm to 5pm.