The Workout That's Going To Instantly Streamline Your Morning Fitness Routine
Kait Hurley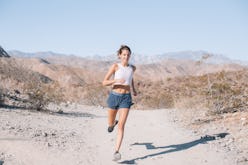 Heading into a new year often means taking stock of a lot of different factors in your life, with fitness frequently being at the top of the list of things people want to improve. But, what if your approach is completely wrong? Perhaps the secret to better workouts is not what you think — namely, using some of the latest health and wellness trends to think about fitness from the inside out.
It's great to make resolutions to eat healthier or utilize the latest techie products to step up your workout game, but according to some experts, you may be overlooking some wellness-centric methods that can get you into great shape mentally as well as physically. As a life-long athlete with over a decade working in the fitness world, Kait Hurley has learned this to be true firsthand. She created her signature Move + Meditate Method as a means of staying active while combatting stress and anxiety through meditation.
Because of her mind-and-body approach to fitness, Hurley has acquired some unique intel on the health and wellness trends that can be applied to your workout strategy. Ahead, find three on-the-rise things you might want to try incorporating into your workouts in 2019.
Simplified Workouts
"I keep hearing from people that they're over doing things that take a lot of time and require a lot of money," says Hurley. "They want simple, easy, no-fuss, wellness at their fingertips." Simplifying your workout routine could mean ditching trendy fitness classes, machinery, or tech devices — if you're craving a less complicated and more flexible solution. "I think we're going to see more people this year discovering the joy of exercising at home and on the go, incorporating mindfulness into their everyday routines," she adds.
Holistic Approaches
Every body is different, which means different workouts will have different effects from person to person. And by slowing down and listening to your own body, you might just find the fitness routine that works best for you. "I'm noticing people are moving away from performative fitness — you know, holding crazy yoga poses for an Instagram pic or bragging about how fast they ran a half marathon last weekend," Hurley says. "Instead, they're focusing on doable, holistic methods that fit into their busy lives and strengthen the body and the mind."
So what exactly might that mean for your future workouts? "I anticipate more high intensity and cardio classes are going to incorporate mindfulness. I think we'll see way more focus on breath and the idea of simply being present in the body and present in the moment," she explains.
The Hormonal Approach
Your menstrual cycle and your workout routine might be a lot more connected than you think. "More and more women are understanding the phases of their cycle and thinking about how to support and nourish their bodies during their period," Hurley describes. "In fitness, I think we'll see an uptick in women choosing their workout with where they're at in their cycle."
Start by downloading a comprehensive period tracker, like MyFlo, which in addition to letting you know what phase of your cycle you're in, it offers suggestions of ways to work out to support your various symptoms — whether that means slowing things down (or taking a break altogether) or taking advantage of peaks of energy with a high intensity interval or cycling class.