This Vegan Restaurant In Los Angeles Is Rated One Of The Best In The Country
@modernlovebrooklyn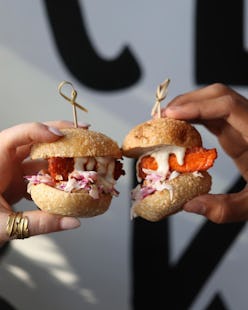 Anyone with dietary restrictions will tell you that dining out can sometimes pose a challenge, especially if you're on the road. But those who refrain from meat — or animal products, altogether — fear not: With growing demand for plant-based options, the best restaurants for vegans and vegetarians have popped up all across America, meaning there's more veggie-inclusive menus to choose from than ever before.
"Gone are the days where vegetarians and vegans had only basic menu items to choose from like salads and pastas," Caroline Potter, chief dining officer at restaurant reservation and review site OpenTable, tells The Zoe Report. "Vegetables are definitely taking center plate, as chefs look to diversify dining options for guests and experiment with vegetables, giving them the same creativity as they do proteins." She adds that there's been a rise in health-conscious eaters, whether they're strictly off meat or simply trying to lower their consumption. "We're seeing searches featuring 'plant-based' increasing by 200 percent since 2017. Also, there were less than 100 reviews mentioning 'vegan' before 2016, but that number has since increased by almost 15,000 per month."
Not sure where to find your new favorite joint? Look no further. OpenTable released its list of the 50 Best Restaurants for Vegetarians in America for 2019, based on diner reviews from the past year. Of the qualifying restaurants, those that made the cut had the highest number of relevant tags, including "good vegetarian options," "vegetarian options," and "vegan." "Not all of the honorees on this list are exclusively vegetarian or vegan restaurants, and that's what's so exciting to see," Potter points out (this is especially good news if your dining companion wants meat on the menu). That said, you don't have to be a hardcore omnivore to enjoy a plethora of plant-inspired dishes. "People today are more mindful of their personal health as well as environmental sustainability, so adding in more veggie-centric dining to their lives is a true win-win. Even if you just honor #MeatlessMonday, you're making a positive impact on our planet and eating a bit cleaner."
Ahead, check out a sampling of 10 selections from OpenTable's list of the country's top restaurants that features plant-based recipes. Whether you're looking for a new haunt near your hometown or you will travel for food, you'll be hungry to try these top-rated restaurants.
#1 - Harvest Beat || Seattle, Washington
Both vegetarians and vegans can enjoy multi-course dinners and wine (and non-alcoholic) pairings, all put together by the chefs. Although the menu is always evolving, the ingredients remain locally sourced.
Majority owned by the more than 40,000 family farmers, this eatery's extensive menu means there's something for everyone — including non-meat-eaters. From sushi to tacos, you can wash it all down with one of the 24 tap beers or a craft-made cocktail.
#3 - Modern Love || Omaha, Nebraska & Brooklyn, New York
Who said gourmet dishes can't be plant-based? According to its site, Modern Love is home to "swanky vegan comfort food" that proves you don't need butter or cream to indulge in something that's scrumptious and cozy.
While the grammar of this restaurant's name may be in question, according to reviewers, its menu is undoubtedly spot-on. This farm-to-table joint isn't strictly vegetarian, but veggie fans are pleased at the meatless options it has to offer.
#5 - Gracias Madre || San Francisco, West Hollywood, & Newport Beach, California
Gracias Madre is a delicious tribute to Mother Earth with a south-of-the-border twist. Offering up vegan versions of Mexican staples like empanadas, quesadillas, and tacos — as well as classic desserts, wine, beer, and mixed drinks — even carnivores will get their (meat-free) fill.
#6 - Root Down || Denver, Colorado
Serving up "globally influenced seasonal cuisine," Root Down caters to carnivorous, vegan, and vegetarian lifestyles, as well as raw and gluten-free diets. Of course, there are also tasty beverages galore, and if you're there for brunch, two words: bottomless mimosas.
#7 - Plant Miami || Miami, Florida
It's all in the name: This vegan eatery specializes in plant-based cuisine, featuring many ingredients that are locally grown. Enjoy the veggie versions of specialties like dumplings, grain bowls, brunch favorites, and even cauliflower steak; just be sure to save room for dessert.
#8 - Nix || New York, New York
With a menu concocted by a Michelin-starred chef, Nix is a dream come true for vegans and vegetarians with refined palettes. Menu items like kabocha squash dumplings, garnett yam massaman curry, and a chocolate ganache torte make this the perfect spot for an elegant date.
#9 - Sage - A Plant Based Bistro || Culver City, Los Angeles, & Pasadena, California
If you're in this West Coast state, seek Sage for a bite. Yes, vegetarians and vegans alike will love the huge selection of breakfast, brunch, lunch, and dinner items; but Kindkreme, the joint's organic, gluten-free "icekreme" and dessert shop, is a worth a trip in itself.
#10 - True Food Kitchen || Locations Across The Country
With 17 nationwide locations, health-conscious diners across the country can savor vegetarian, vegan, and gluten-free options at this wholesome chain. Based on principles of anti-inflammatory eating, this place receives rave reviews for a delicious menu that caters to dietary restrictions (or those simply craving a healthy bite).