Living in This US City Could Cause You Way Less Stress
mimagephotography/Shutterstock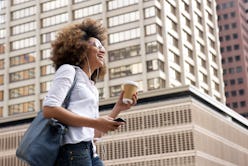 There are a ton of reasons you might be struggling with stress, from toxic relationships to work load — but have you considered the fact that where you live could be a contributing factor? Well, a recent study has determined exactly which are the least-stressed cities in America, and the results just might surprise you.
Personal finance website WalletHub carefully researched more than 180 cities across 39 key metrics — including divorce rates, debts, average workweek hours, and adult health among others — to determine which US cities were the most — and the least — stressful to live in.
If your first guess was NYC — likely based on the fact that it's one of the most expensive to live in (a stress in and of itself) — you'd be wrong. The Big Apple clocked in at a not-too-shabby No. 53. And Angelenos' traffic woes and smog only landed it at No. 57. As for the most stressed, Detroit, Cleveland, and Newark landed in the top spots, due to money, work, family, and health and safety woes.
On the flip side, the cities that made it to the bottom of the list — in other words, the least stressed — showed things like less hours worked in a week, accessibility to affordable housing, and even more hours of sleep on average as among the reasons inhabitants seem to be, well, a lot happier. Want to know if your city made the cut? Or are you scoping out potential new places to live that could reduce the amount of stress you've got now? Ahead find the top 10 least-stressed cities in America, including more than a few you probably wouldn't have guessed.
10. San Jose, California
This Bay Area city can attribute its spot on the list to having one of the lowest divorce rates of those measured.
9. Cedar Rapids, Iowa
Iowa's second largest city keeps its inhabitants' stress levels low in part by boasting some of most affordable housing.
8. South Burlington, Vermont
It probably doesn't hurt that South Burlington is home to Ben & Jerry's headquarters, but more likely the city is less stressful to live in because it has one of the lowest percentages of adults in poor health and one of the lowest poverty rates on the list.
7. Fargo, North Dakota
If you struggle with sleep, you know how much that can stress you out. And the fact that Fargo showed one of the highest average hours of sleep definitely plays a role in where it landed on the list.
6. Plano, Texas
Plano scored well across the board, showing signs of less stress in areas like work, finances, and health.
5. Irvine, California
The Orange County city boasts one of the lowest crime rates and one of highest median credit scores — which alone would make most people feel a lot less stressed.
4. Overland Park, Kansas
The second most populated city in the state, Overland Park not only has impressively low poverty rates but also offers some of the most affordable housing.
3. Sioux Falls, South Dakota
Once again, a healthy amount of sleep proves that those living in this South Dakota city are less stressed than many others.
2. Bismarck, North Dakota
High credit scores and one of the lowest amounts of adults in poor health are two big reasons for Bismarck landing in the No. 2 spot.
1. Fremont, California
While this Bay Area city placed 28th highest in work stress, it grabbed the No. 1 spot as least-stressed by having one of the highest median credit scores and one of the lowest poverty ratings, among a ton of other factors.