A 19-Step Wedding Skincare Routine That's Actually Super Simple (I Promise)
JP Yim/Getty Images for Kenra Professional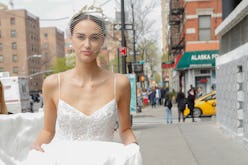 My first thought post-proposal — besides, you know, yes — was, What am I going to do about my skin? Mine is super sensitive, and bounces between bouts of chronic dermatitis and hormonal acne (both of which leave lovely little spots of hyperpigmentation behind). It's a rare day when my face is completely clear, and obviously, I needed that rare day to align with The Big Day. So before I even considered planning the ceremony, I began planning my wedding day skin prep.
My strategy wasn't exactly standard. First, I hired a nutritionist to help me eat my way to clearer skin. (Trust me, it's a thing.) Next, I took control of my hormones — and thus, my hormonal acne — by consulting with my OB/GYN to find a solution. As for the surface-level stuff? Instead of piling on the brightening, tightening, skin-resurfacing products, I pared down my collection to a handful of clean and natural basics. I even eliminated exfoliation from my routine altogether; I was going for "plump and glowing" anyway, so my face didn't need the extra abrasion. And, of course, I indulged in a luxurious, pre-ceremony facial.
After a few months of this 360 degree approach, my skin looked better than it had in years. My wedding makeup artist told me I had the softest face she'd ever touched. My only regret is that it took having a wedding (and approximately one million wedding photos) on the horizon to convince me to commit… to a skincare routine, I mean.
Ahead, the pre-wedding beauty regimen I still swear by, a year and a half after saying "I Do."