I Tried A Crystal Facial Treatment As A Last-Ditch Effort For My Hormonal Acne
Jessica L. Yarbrough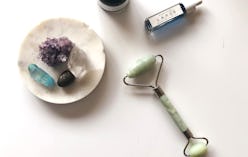 My hormonal acne and I have a deal: I give it what it wants — a dairy-free diet, less stress, more sleep, simple skincare — and it leaves me alone. This month, I didn't exactly hold up my end of the bargain (I just can't quit you, cheese)... and sure enough, a few under-the-skin cysts popped up on my jawline to say hello. I've been faced with some bad breakouts before, and if there's anything I've learned from the dozens of spot treatments and zit stickers I've tried in an effort treat my hormonal acne, it's that there is no ~magic~ cure. Still, I thought, maybe a crystal facial and a rose quartz massage will help?
Read more: How To Treat Fungal Acne On Your Face When Nothing Else Works
I'd been meaning to pop over to the Ace Hotel in Palm Springs to experience its new Crystal Facial anyway, a treatment its Feel Good Spa recently launched in collaboration with celebrity-manicurist-slash-crystal-guru Mazz Hanna (she does Julia Roberts' nails and makes CBD- and crystal-infused beauty products). My newly-inflamed face provided the perfect excuse to treat myself to a little aesthetic alchemy.
Read more: Are High-Frequency Acne Treatments Legit? Here's What Derms Think
Of course, I wasn't under any illusions going into it — I know that even the highest-vibing crystals can't clear up hormonal cysts in 60 minutes. But you know what else comes along with hormonal acne? Bloat, stress, and general blah-ness; all of which can be fixed with a lymph-draining, energy-clearing, glow-giving "skin and soul" facial. At least, that's what I was hoping.
From the second my aesthetician, Alicia, guided me into the treatment room, I knew I wouldn't be disappointed. The lights were dim. The vibe was chill. The beautifully-bottled products were lined up next to their corresponding crystals; an acoustic cover of Sade's "By Your Side" played softly in the background; and I was decked out in a robe as soft as a well-worn hoodie, just, you know, fancier. I could practically feel my face relaxing into a state of energetically-balanced bliss.
First, Alicia placed two crystals on my chest: double-terminated clear quartz (to amplify the benefits of the other crystals used throughout the treatment) and selenite ("to direct high-frequency energy into the body that can stimulate overall healing," according to the brand). She guided me through a few deep, calming breaths to set the tone of the facial, then began cleansing my skin with oil — a blend of avocado and vitamin E oils infused with actual, literal 24k gold. Apparently, gold is the ultimate "primer" to prepare the body for crystal healing. I can't tell you if that's an accurate scientific assessment, but I can tell you it felt pretty freakin' luxurious.
Before moving on to the deep cleanse — made with soothing Moroccan chamomile and softening seaweed extract — Alicia placed a fresh crystal on my chest; this time, tourmalinated quartz. The stone is known to break up energy blocks… so, theoretically, it could help break up the buildup that blocks pores, too, right?
I was apprehensive about step three — exfoliation care of pineapple enzymes — since my skin is super-sensitive, but I let go of my anxiety and let Alicia do her thing after she brought out the lepidolite (a gem that promotes beauty and rejuvenation) and a facial steamer. While the treatment was setting, she thoroughly massaged my arms and hands with rollers made of rose quartz — the stone of self-love — and more of the 24k gold oil. Is that why my normally-reactive skin didn't feel the least bit raw, tight, or tingly post-exfoliation? Honestly, probably.
Extractions were next, and normally, I tell my facialist to skip them (again… my skin is very sensitive). But with the placement of amethyst to calm my energy and reduce inflammation — and the most divine rosewater-soaked cotton rounds over my eyes — I gave it a try. Alicia avoided the deep-rooted jawline cysts and instead focused on a few blackheads and whiteheads around my nose and forehead.
With my pores sufficiently open from the steaming and "de-gunked" from the extractions, it was time to deepen the detox. For my skin, that meant an activated charcoal mask, made with volcanic mud and kaolin clay, to draw out impurities. For my energy, it meant adding shungite, the stone of purification, to the crystal collection on my chest. I loved that this mask didn't leave my face feeling dry and tight, like clay masks often do. Once it was removed, Alicia came in with a lymphatic drainage facial massage — those rose quartz rollers again — to help take down swelling (a definite plus for the PMS bloat) and relax tension.
The last two steps were all about replenishing my skin's moisture supply with a plumping hyaluronic acid serum and stress-relieving amazonite crystal combination, followed by a skin-strengthening peptide moisturizer and a wave of the selenite wand. There was a brief moment of disappointment when Alicia nudged me to say the treatment had come to an end… but that dissipated when she handed me the selenite to take home as keepsake. I was instructed to call on it whenever my skin (or energy) was in need of a little healing.
The pictures don't lie: Although my jawline acne didn't budge, this facial made my skin G-L-O-W. Considering the fact that I've tested and written about a lot of facials in my day and almost every single one has left me red, irritated, or otherwise inflamed post-treatment, I'm shook. Was it the plant-based products that made the difference? The light, lymph-draining facial massage? Or the power of the carefully curated crystals? I may never know for sure… but I'll be back next month to test some theories.