This Completely Cleared Up My Chest Acne In Just 3 Weeks
JP Yim/Getty Images Entertainment/Getty Images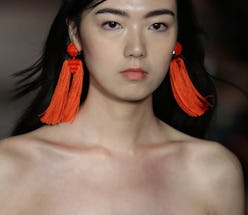 Sometimes, I feel like the gods of good skin are messing with me. Mine is prone to problems (acne, dryness, dermatitis, hyperpigmentation) and is also ultra-sensitive… meaning the usual treatments for said problems (retinol, acid exfoliators, vitamin C) are typically too harsh for my face to handle. So when new skincare brand Bejbiskin sent me a sample of its Liquid Exfoliant — a 12 percent concentration of exfoliating acids — I really wanted to try it, but knew my skin would rebel. Instead, I used it on my chest. And three weeks later, my chest acne is gone.
First, the reason I was so drawn to this particular exfoliating elixir has everything to do with Bejbiskn's brand ethos. That's pronounced "baby skin," by the way, which ties back to its belief that skin deserves to be pampered, or "babied," with gentle-yet-powerful products. The company also formulates with research-backed, result-driven ingredients, all of which told me that my skin was in safe hands. (And sure, the Insta-worthy neon pastel packaging didn't hurt, either.) That being said, I wanted to take the product for a test-run on a less sensitive but equally acne-prone area of my skin; and my chest provided the perfect opportunity.
According to dermatologists, I'm not the only one still struggling with "chacne" well into my late twenties. "The chest has thinner skin and fewer oil glands than your face," Dr. Devika Icecreamwala, a board certified dermatologist based out of San Francisco, tells The Zoe Report. This means that when pimples do pop up on the chest (or the back), they linger for longer. "The skin in this area has less of an ability to repair itself, compared to your face," the dermatologist explains. She agrees that exfoliating acids — which are known to speed up cellular turnover and clean out clogged pores — help move the repairing process along.
"BHAs [beta hydroxy acids] such as salicylic acid are best for blemishes on the chest, and work especially well for oily and acne-prone skin," Dr. Icecreamwala says. That explains why the Bejbiskin Liquid Exfoliant works wonders for me; it features 2 percent salicylic acid, the most well-known BHA. "Salicylic acid is oil-soluble, so it gets deep into the pores to help clear blackheads, breakouts, and bumps," Eva Seta and Francesca Marino, the brand's founders, tell TZR.
Dr. Icreamwala also recommends AHAs (alpha hydroxy acids) like glycolic acid and lactic acid for use on the chest. "Both help with hyperpigmentation and sunspots, in addition to exfoliating," she says. Glycolic and lactic acids are present in Bejbiskin Liquid Exfoliant as well, at a concentration of 10 percent. "The combination of these exfoliants makes this product super efficient at tackling tough body acne and 'chicken skin' (aka, keratosis pilaris bumps), which are notoriously difficult to get rid of," Seta and Marino say. "It's also formulated at a pH between three and four, which is the optimal range for the acids to be effective."
I mean, I'd say effective is an understatement. I use the Liquid Exfoliant about three times a week, post-shower, and slather it all over my chest and shoulders. After a couple applications, I started seeing a difference; three weeks later, my chest acne is pretty much non-existent. I haven't experienced any of the typical acid side effects, either, like dryness or peeling — which is probably because the other 88 percent of Bejbiskin's product is made up of soothing, hydrating ingredients. The inclusion of glycerin, aloe leaf juice, and green tea extract means it won't strip the skin of much-needed moisture.
I always follow up with Bebjiskin's corresponding After Acid Serum, too. "After Acid Serum is formulated to support your skin while using actives like acids," the founders explain, noting that although acid exfoliators have great results, they often lead to irritation and can even make skin issues worse if not applied mindfully. "Our serum makes sure you are replenishing your skin with ingredients it needs to stay healthy," they say. "After Acid Serum is a supporter and protector, helping to maintain a healthy skin barrier and prevent dehydration with a significant amount of repairing and anti-aging ingredients."
It's important to note that exfoliating acids of any kind do make the skin more susceptible to sun damage. "Because of sensitivity to UV rays, always use sunscreen after," Dr. Icecreamwala advises. I always layer on some SPF as the third step in my chest care regimen.
I know I've found my Holy Grail of chacne-fighting products, but if you're still on the hunt for yours, check out the 10 derm-approved options ahead.
Shop