Does Dry Brushing *Really* Help With Lymphatic Drainage?
@jvskincare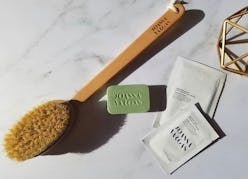 Put down the grainy scrub and step away from the full-body acid peel. Dry brushing is the secret to smooth, shiny skin for the spring — and its benefits are more than skin deep. The old-school exfoliation technique, loved by celebrity aestheticians and natural beauty buffs alike, not only removes dead skin cells; it also boosts circulation, supports natural detoxification, and even kickstarts collagen production. Can your apricot scrub do that?
Dry brushing originated in India over five millennia ago (yes, millennia) as a tenet of Ayurveda, the medical system of ancient India, so it's time-tested, too. "Skin brushing techniques can be traced back to most ancient civilizations," Gara Post, the co-founder and creative director of The NOW, tells The Zoe Report. "All have used dry brushing in preparation for hot baths, cleansing rituals, and to stimulate circulation." The practice hasn't changed much, if at all, since then: It involves massaging the body with a firm-bristle brush before bathing. "While you can dry brush any time of day, we suggest before a morning shower to get energized for the day ahead," Post says — that's when your body can reap the most benefits.
"Dry brushing does multiple things for the skin, which is why I like it so much," Joanna Vargas, a celebrity aesthetician whose clients include Mandy Moore and Chrissy Metz, tells TZR. "It is exfoliating, so it stimulates collagen production, which will thicken the skin and lessen the appearance of fat cells." She notes that it also gives the lymphatic system — the body's natural detox center — a boost, helping it to eliminate toxins and flood cells with nutrients (and potentially even reduce bloating). "Dry brushing also stimulates circulation, which oxygenates the skin," Vargas says. "It's great for reducing puffiness, improving elasticity, lifting and toning, and making the skin glow all over." Does that not sound like the healthiest way to exfoliate, ever?
How To Dry Brush
"Starting at your feet, use long, smooth brush strokes, always moving up and in, toward your heart," Post advises. This supports the body's natural circulation and lymphatic drainage patterns. "Spend a little extra time on joints, cellulite, and anywhere you feel tension or stagnation," she says. Make sure to keep the brushing pattern long and straight; circular motions "just don't work," as Vargas says. The whole process should take about two to five minutes.
"The pressure should be super light, since the bristles are quite rough and you wouldn't want to scratch your skin in any way," Vargas adds. This is also why you never want to brush skin after a shower or if it's damp with sweat; wet skin is more sensitive and therefore, prone to scratches and scrapes. (And FYI — never dry brush your delicate face!)
One you're done brushing, rinse off in a bath or shower. "Taking time to soak in the tub can help your body further detox," Post tells TZR. "Pat your skin dry and apply a clean body oil or lotion to seal in the benefits and nourish your skin."
Vargas claims you should start seeing results, including improvement in overall skin quality and firmness, in as little as two days. "And two weeks straight of dry brushing will give you the bottom you have always wanted," she says. "High and smooth!" (Not to make any assumptions about the kind of bottom you want — but high and smooth certainly sounds nice, right?)
How To Choose A Dry Brush
When it comes to the ideal dry brush, the firmer, the better. Look for a traditional option with natural boar bristles and a long, detachable handle to make it easier to brush hard-to-reach places, like your back. Vargas' checks all the boxes.
For a more modern approach — and a few added benefits — check out The NOW's new Copper Dry Brush. "Copper is a powerful metal that is utilized traditionally for its antibacterial and antiviral properties," Post explains of the company's choice to use copper bristles. It's also said to counteract the "positively charged electrical ions" released by electronic devices like laptops and smartphones, by "generating an abundance of easily absorbed and neutralizing negative ions that counter the effects of modern technology," Post says.
Regardless of which dry brush you choose, the practice is super easy to add to your routine. "Anyone can master the art of dry brushing," Vargas tells TZR. "It feels easy and it's not expensive, so it's very little money and time to do something that will bring so many benefits."
Ahead, a couple options to get you started.
Shop Dry Brushes