Is Your Skin Hungover? Derms Weigh In
Craig Barritt/Getty Images Entertainment/Getty Images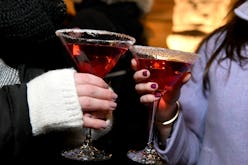 In my younger years, "getting ready for a party" simply meant picking out a festive outfit, spending an hour or two leisurely applying makeup and doing my hair, and maybe picking up a bottle of wine to bring with. But as I get older, "getting ready" takes on a whole new meaning: Not only am I prepping for the actual party, I'm prepping for the morning after, too... which can include super fun things like dehydrated skin, puffy eyes, and maybe even a pimple or two. (What can I say? I'm a sucker for cocktails and a cheese platter.) Yes, holiday parties can wreak havoc on the skin — and with the season of themed celebration firmly upon us, The Zoe Report reached out to dermatologists to find out exactly what to do about it.
Things like alcohol and late nights are obvious culprits. "Consuming excessive alcohol is dehydrating to the body, and your skin can reflect that dehydration," Dr. Sejal Shah, a dermatologist and the founder of SmarterSkin Dermatology, tells The Zoe Report. "And getting too little sleep can also accelerate the aging process and trigger acne flares." But there are some sneaky skin-disruptors to look out for as well — like the wool from that "ugly Christmas sweater" you pull out every season, or your go-to glitter eyeshadow.
Ahead, the five major ways that holiday parties can affect your skin — complete with expert advice on how to remedy everything from too many drinks to too little sleep.
Alcohol
Chances are, your version of holiday cheer likely involves a cocktail (or two, or three… no judgement). And while alcohol makes it easy to slip into party mode, it's definitely hard on your skin. "Alcohol dehydrates the skin," Dr. Lily Talakoub, a dermatologist with McLean Dermatology and Skincare Center, tells The Zoe Report. "It can cause flushing of the skin and flare ups of rosacea."
"Alcohol can alter the gut microbiome, and as we are learning, there is a relationship between the gut and the skin," Dr. Shah adds. "An imbalanced gut microbiome may manifest as skin issues, like acne." Some of these effects can be mitigated if you eat a full meal before drinking, though. "The amount of food in the digestive tract determines the rate at which alcohol is absorbed," she says. "Fill up on fiber-rich and low glycemic foods, such as vegetables and brown rice — this will help slow down how much alcohol your body absorbs."
To combat some of the inflammatory effects of drinking, hydration is key — before, during, and after the party. "Make sure to drink lots of water," Dr. Adarsh Vijay Mudgil of Mudgil Dermatology tells us. "This will help minimize your hangover, too." Speaking of hangovers, you may want to have some Pedialyte on hand for the morning after, according to Dr. Talakoub. "Drinking Pedialyte after a night out increases the electrolytes in the body and helps hold water in the body and the skin," she says.
Dr. Talakoub also recommends slapping on Peter Thomas Roth's Cucumber De-Tox HydraGel Eye Patches to hydrate and depuff the eyes. "And make sure to use a moisturizer that will replenish your barrier, like Epionce Medical Barrier Cream or another rich moisturizer that is non-comedogenic," Dr. Amy Taub of Advanced Dermatology tells us.
Or, why not skip the alcohol altogether? "We all know what 'hangover face' looks like: Dull, dry skin (and hair), and puffy, bloodshot eyes," Ruby Warrington, author of the upcoming book Sober Curious, tells The Zoe Report. "In contrast, when you abstain from drinking on a night out, you can dance all night and will wake up looking (and feeling) as fresh as a daisy!"
Diet
Gingerbread cookies, candy canes, meat and cheese charcuterie boards… Yeah, party food is usually not healthy food. While it's totally fine (and encouraged!) to indulge over the holiday (or, you know, whenever you damn well please), you should be aware of how sugar and dairy can show up on your skin. "It's really cheese more than anything — dairy is a skin inflammatory component of the diet," Dr. Talakoub tells us. "Dairy, including milk and cheese, has been known to cause cystic acne."
"Foods high in sugar are a high glycemic load," Dr. Shah adds. "When you eat high glycemic foods, your blood sugar spikes and this triggers a hormonal cascade that can increase the activity of oil glands and lead to development of acne." A single one night stand with sugar can result in a handful of pimples, but excessive consumption over the season could even lead to wrinkles and sagging skin. "It breaks down your collagen," Dr. Taub tells us. "You will be more susceptible to wrinkling in the future."
"One of the most important things you can do is try to consume sugar in moderation," Dr. Shah shares. But if you do go overboard on the cookies and candy, Dr. Taub recommends reaching for a vitamin C serum to boost collagen stores. "My recommendation would be to look for anti-inflammatory skin products, such as Bioderma's Sensibio cleanser and the Bioderma Anti-Rougers Moisturizer," Dr. Talakoub adds. "These will decrease the redness on the skin."
Late Nights
With party after late-night party on your iCal, you're likely not getting as much sleep as you should. "Nighttime sleep is a time of repair and renewal, and skimping on it can negatively affect the skin," Dr. Shah says. "The skin can appear dull, dry, and lackluster and getting too little sleep can also accelerate the aging process and trigger acne flares." And, of course, leave you with puffy eyes and dark circles.
"When you're tired, the blood doesn't flow correctly through the skin and the lack of oxygen can make the skin look sallow, yellow, and dehydrated," Dr. Talakoub says. "Lack of sleep increases cortisol in the blood, which is the body's stress hormone, and can cause redness, acne, and skin rashes." In other words, don't skip the beauty sleep — your skin will thank you.
At the end of a late night, "taking melatonin will help put your body into REM cycle and give you a better night sleep, even if it's a shorter amount of time," Dr. Talakoub tells TZR. "Sleeping with your head elevated will also help decrease the puffiness in the eyes." As far as products, she suggests Orveda's Eye Unveiler for nighttime and Colorescience 3-in-1 Renewal Therapy SPF 35 during the day. "It immediately brightens the eye area and corrects imperfections, like reducing dark circles and puffiness for a refreshed and rested appearance," she says.
Fuzzy Sweaters
In a plot twist that gives a whole new meaning to the term "ugly Christmas sweater," fuzzy wool fabrics can actually irritate the skin and lead to rashes, acne, and more. "The lanolin in wool can cause irritation and eczema flares in folks with sensitive skin," Dr. Mudgil says; and coarse or abrasive fabrics can itch and irritate just about anyone.
"If you're wearing something that's itchy and unavoidable, taking an antihistamine in the morning will help prevent rashes," Dr. Talakoub advises. To calm a wool-induced rash after the fact, "treat it with a topical hydroquinone cream," she says.
Heavy Makeup
'Tis the season to sparkle… but your glitter makeup might actually be more trouble than it's worth. "Glitter is an irritant on the skin and can cause rashes," Dr. Talakoub tells us. "And heavy makeup clogs the pores and causes blackheads and whiteheads under the skin." If you do opt for a more full-coverage coat of foundation and shimmer for holiday parties, make sure you're removing it properly and taking care of your skin afterwards.
"I recommend double cleansing with Bioderma's Micellar Water first and then using a gentle oil-to-cream cleanser afterwards, such as the 107 Oil-in-Gel Cleanser," Dr. Talakoub says. "Then, use Cane + Austin's 10% Glycolic Pad to decrease the clogging."
When removing glittery eye makeup, "Be careful not to scrub too hard or get the glitter in your eye," Dr. Taub tells us. "Both can cause irritation and redness of these delicate tissues."
If you do nothing else to combat the effects of holiday parties on your skin, please please please remove your makeup before going to sleep. "After being out all night, it's tempting to just go straight to bed," Dr. Shah admits. "But make the effort to thoroughly cleanse your face with a gentle hydrating cleanser and apply moisturizer." After stressing out your skin with all that alcohol, cheese, and itchy wool, it's really the least you can do, right?