The Beauty Product Shay Mitchell Swears By Is Probably In Your Kitchen Right Now
Theo Wargo/Getty Images Entertainment/Getty Images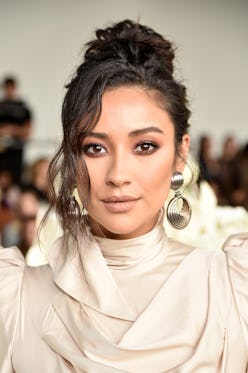 For many, the concept of an effective beauty routine typically involves a plethora of pricey targeted potions and creams. However, in reality, some of the most worthwhile formulas can actually cost next to nothing and serve multiple purposes. Case in point: Shay Mitchell's game-changing beauty product of choice, which isn't only priced less than a cup of coffee, but is also probably sitting in your kitchen right now.
The actor, known for her constant effortless glow, recently revealed her best-kept beauty secret to The Zoe Report when supporting Buxom's latest Wanderlust Collection launch on Feb 10. "Coconut oil," she said simply. "On my hair and skin — I use it for everything." While not exactly mind-blowing, it's refreshing to hear some celeb validation of the trendy (and sometimes controversial) affordable beauty fave. If you've been trying to figure out how to work coconut oil into your own beauty routine or simply utilizing it for cooking purposes, take a page from Mitchell's book.
The You star explains her most popular uses for the oil includes, "hair mask, makeup remover, and body oil/hydration product." While the two latter points are self-explanatory, here's a quick tip for utilizing coconut oil as a hair mask. Work the oil into your dry, pre-washed hair about 45 minutes to an hour before you hop in the shower. Let it absorb and saturate your hair, then shampoo and condition as usual. (One thing to note when using it as a makeup remover and skin moisturizer: A little goes a long way. Apply a small dollop of the thick oil to the skin and build as needed.)
For those not completely in the know on why coconut oil has become such a buzzy beauty ingredient over the years, here's a quick rundown. Mainly, the oil is jam-packed with vitamin E, a key solution for improving the texture and general appearance of skin and hair. It also contains antioxidant properties which can help fight free radical damage and promotes a more radiant, taut complexion. Coconuts in their entirety — water, meat, oil — are famously hydrating to the body, so it's no surprise their oil is a staple in beauty products across the board.
As for some other items to be found in Mitchell's beauty arsenal? "Buxom Full-On Plumping Lip Cream in Dolly and Buxom Lash Volumizing Mascara are two items I use almost every day or night," she explains. "They're the perfect staple items in my makeup kit." Oh, and a few drugstore items made the cut as well. "I love using Aquaphor under lip glosses and creams to make it look a bit more dewy," she says. "I also keep a Neutrogena Pressed Powder Foundation in my bag just in case."
Interested in adopting Mitchell's radiance for yourself? Ahead, check out all the products she keeps on hand. At the very least, keeping a jar of coconut oil in your bathroom should keep you on track for healthier skin and hair. Get on board and stock up!