I Always Use CBD Balm For My Massages — & Here's Why
Daniela Spector for Chillhouse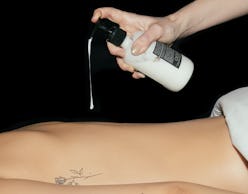 Like most people who live in Los Angeles — the unofficial mecca of CBD and all its many, many byproducts — my fascination with the soothing, stress-relieving substance has gone from "OMG CBD!" to "really, more CBD?" in a matter of months. It seems as if an influx of CBD-spiked consumer goods has infiltrated nearly every industry, from the expected (supplements, skincare) to the unexpected (pet food), and I was feeling a little burned out on all the cannabidiol press releases — until I read about a life-changing CBD massage.
The NOW, a trendy startup massage boutique in LA that offers luxe 25-minute massages you can book on your lunch break, has been my go-to spot for a quick hit of self-care for years. So when the company launched a product line (Nourish by The NOW) and introduced a massage featuring its very own Peppermint CBD Balm, I knew I had to try it. The website promised that the addition of CBD (a $10 add-on that can be incorporated into any treatment) would lead to "increased sensory stimulation" — which is exactly what you want out of a massage, right? — but still, I was skeptical.
Up until this point, my experience with CBD was purely ingestible. I take the prerequisite CBD gummies and drop a bit of hemp oil into my morning tonic, and — I hate to say it — I don't really see any noticeable effects. Mild relaxation, maybe? But other than that, my personal CBD journey has been decidedly lacking in mind-blowing benefits. It turns out, all I needed was a good Swedish massage with a topical dose of CBD balm, and bam! Mind-blowing benefits, indeed.
My treatment started out the usual way; on my stomach, nearly nude, covered in a sheet with white noise whispering in the background. The massage therapist, Yuki Person (go see her — like, now), asked which areas of the body I wanted to focus on and got to work. Normally, I get really relaxed during a massage — I tune out and sometimes nap and generally feel amazing. But the combination of Person's handiwork and the CBD balm was beyond. As she kneaded the knots in my back, tension slowly oozed out of my shoulders; when she got up to the base of my head and behind my ears, my neck pretty much gave up (in a good way).
The final 10 minutes of the service were foot-focused, and I think because the skin on the arch is more sensitive than the rest of the body, this was where the I noticed the effects of the CBD the most. The mix of warmth from the boost in circulation and the cooling, tingly feeling from the peppermint-laced balm was next-level — it felt sacrilegious to put shoes on afterwards.
CBD massage does more than just feel good, though; when the substance absorbs into the skin, it has the potential to relieve pain, calm inflammation, and even ease anxiety. "There are studies that show that CBD is a powerful anti-inflammatory ingredient," Gara Post, the co-founder of The NOW, tells The Zoe Report. "Signs of inflammation can include pain, swelling, fatigue, and digestive issues — all of which can experience benefits from regular massage, which is why adding the CBD enhancement to the menu was natural for us."
Post notes that scientific data around topical CBD application is scarce, "because federal regulations inhibit scientists from studying it and view it the same as marijuana." However, there's enough anecdotal evidence out there (like my can't-recommend-enough massage) to draw the conclusion that you'd probably benefit from a hit of CBD lotion.
"Our team took months developing the balm locally in Los Angeles and crafting the perfect, custom travel-ready vessel," Post tells TZR. The brand's version includes peppermint, coconut, and apricot oils to boost the healing benefits — and the usefulness. "On top of relaxing sore, tired muscles, it also can be used as a scalp treatment, hair mask, and nourishing body balm," the co-founder shares. It's available at The NOW's physical locations in Los Angeles.
I can't guarantee that administering an at-home application of topical CBD balm will be as mind-blowing and body-balancing as my massage — but if you can convince someone to rub your feet with it, I'd say you're halfway there.
Ahead, the balms that deserve "OMG CBD" status.
Shop CBD Balm