I Got "Stretched" — & It Was WAY Better Than A Massage
Daniela Spector for Chillhouse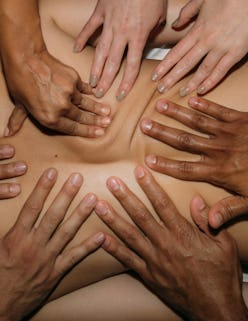 I've inherited a few key qualities from my mom: her bad vision (my eyesight is -4 and counting); a lifelong love of books; a wholehearted appreciation for anything and everything pink — and her bad back. For as long as I can remember, she had problems lifting anything super heavy and would even grunt while picking up our Yorkie. Sometimes, I thought that she was being overdramatic — which is another shared trait — but then New York Fashion Week happened. I was backstage and on my feet for most of the week, waiting around for a spare quote or a social moment to capture. It didn't help that I was lugging my laptop, my mini S'Well water bottle, a handful of lip glosses, lotion, and an umbrella in my big Fount handbag. Oh, and I forgot to mention that I recently moved, so all of my free time is dedicated to transporting heavy boxes and suitcases from one locale to another. Fed up with the pain, I decided I needed a good stretch, rather than a massage, to help my muscles. I booked an appointment at NYC's Stretch*d the next day.
Conceived by Amanda Freeman (the founder of cult-favorite SLT fitness), Vanessa Chu, Jeff Brannigan, and Jeremy Mayer, Stretch*d is a a studio where you get, well, stretched. A certified Stretch*r with bodywork experience helps you loosen up with a series of assisted movements, from 25 minutes to a full 75. There are plenty of spas and massage parlors that I could have picked, especially if I was feeling fancy — Chillhouse in NYC's Lower East Side offers a stretch massage, and Bliss has a stretch therapy session on its menu, too — but my stretch made such a difference in the weariness and soreness of my body.
I opted for a 55-minute appointment, where the focus was on my back, neck, and legs. And again, I knew that this wouldn't be one of those froufrou massages with fluffy robes and cucumber-infused water. In fact, the studio suggests that you arrive in clothing and socks, because you will not stay still. In fact, it almost felt like an extended pre-exercise stretch that you see athletes doing on the sidelines before a big game. My Stretch*r began extending my arms and legs as I laid on my back, strategically flexing them back and forth. The back exercises were where I felt a little bit of pain... in a good way, if that makes sense. Turns out that those muscles were being moved around to help alleviate that tension.
"While massages are helpful, they provide more temporary relief," Chu tells me. "Stretching, when done properly, is much more of a corrective exercise. There is a lengthening occurring in the muscle during a stretch that doesn't occur during a massage, which leads to more permanent changes in the body. In the method of Stretch work we do, we are also moving the joints, which don't get as much attention in massage."
This is why many athletes and Flywheel enthusiasts hit up the Stretch*d space — because it loosens the tension instead of breaking it up. "Stretching involves moving the joint above and below the muscle to extend the muscle beyond its normal resting length," Brian Mehling, M.D., M.S., of Mehling Orthopedics clarifies. "With a massage, however, the muscle remains in its resting length while the therapist applies pressure to the resting muscle to break up muscle tension." A massage would have definitely made me feel better, too, but I clearly made the right call by opting for a good stretch. Plus, I have the luxury of DIY-ing my own routine at home. After the appointment, I received a very helpful email with instructions on how to do a thoracic lumbar rotator — a customized stretch to loosen up my spine.
Overall, I might even be investing in them more — because it's literally what the doctor ordered. It's been a few weeks since my appointment, and I feel so much better. Not just because fashion week is over, but because I take time to stretch before working out and after a long day of lugging beauty samples around. "Stretching is better because it helps increase range of motion and decrease injury," Dr. Mehling confirms. "You'll have decreased muscle tension and spasms, an increased muscle range of motion, and decreased muscle injury." Who knows? Maybe I'll even bring my mom. After all, she's shared so much with me, so I might as well let her in on my new favorite sore muscle treatment, too.