Meghan Markle's Favorite Facial Is Pregnancy-Safe — & So Are These 7 Treatments
Pool/Getty Images Entertainment/Getty Images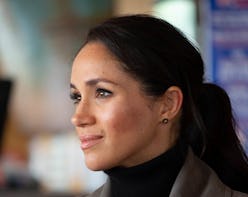 The collective obsession with Meghan Markle is hard to deny — she's just so relatable. It almost feels like she's your best friend who just so happens to be a royal duchess — which is why the world watches her every move. Especially since her pregnancy announcement.
The world is keeping an eye on Markle with a familial mix of delight and worry, oohing and ahhing over her baby bump style, while questioning whether she should really be hopping on a plane right now (answer: yes). There are also concerns about her beauty routine. We already know about her favorite retinol-infused lotion and her go-to highlighter, both of which she probably still uses to this day. Her spa treatments, however, have us wondering — specifically on whether Markle's favorite facial is pregnancy-safe.
The Duchess is reportedly a fan of buccal facials, which utilize a deep massaging action to sculpt the muscles of the face and stimulate collagen production, according to Real Simple. This type of facial is somewhat invasive — the aesthetician actually sticks their hands in your mouth to adequately reach the buccal area (aka, the cheeks) — and some invasive massage techniques are potentially harmful for pregnant women. (The buccal is all good, though — whew!)
For example, stimulating certain pressure points in the body through reflexology may cause uterine contractions, potentially leading to miscarriage (although this hasn't been extensively studied) or even pre-term labor, says Ehsan Ali, M.D., the Beverly Hills Concierge Doctor. There's an increased risk of blood clots during pregnancy as well, so massage strokes that impact blood circulation aren't advisable. And since the chances of losing a pregnancy are highest during the first 12 weeks, it's recommended that women in this stage avoid pretty much all varieties of full-body massage.
After the 12-week mark, "Avoid massaging the abdomen or belly," says Dr. Ali. "Otherwise, massages are pretty much safe throughout the remainder of the pregnancy."
Ahead, read more about eight massages aren't just pregnancy-safe — they're recommended, too.
Buccal Massage
According to experts, Markle's go-to massage is safe at any point in the pregnancy (yes, even in the first 12 weeks). "Since buccal is considered a non-invasive facial massage, pregnant women do not need to be concerned about it. It is absolutely safe during pregnancy," Deisy Suarez, the CEO of DESUAR Spa in Downtown Los Angeles, tells The Zoe Report. "This gentle anti-aging massage is aimed at assisting in lifting and toning the muscles around the lips, jaw, and cheeks."
Facial Massage
"Manual facial massage of any kind has no reported contraindications," Suarez adds. Considering the many changes a woman's body goes through during pregnancy — including headaches, swelling of the face, and hormonal patches of melasma, and hyperpigmentation — facial massage is especially beneficial for soon-to-be mothers; since it addresses all of the above by promoting relaxation, fluid drainage, and cell turnover.
What's more, "While the pregnant client is relaxed and calm, massage releases 'happiness hormones', or endorphins, that can be beneficial for both the mom and baby," Suarez tells us.
Scalp Massage
Much like facial massages, scalp massages are more than just pregnancy-safe — they're highly recommended to keep the body free from pregnancy-induced headaches.
"At The NOW, we offer 'The CROWN' — our version of a scalp massage," Gara Post, the co-founder and Creative Director of The NOW Massage, and Hektor Rojas, the brand's Head of Recruitment, tell The Zoe Report via email. "It's great for relieving tension in the head, neck, and shoulders, and we can add on our organic coconut oil to stimulate the scalp and add shine to the hair."
Effleurage Massage
Suarez suggests effleurage massage (which involves long, soft strokes) for moms-to-be. "This is very relaxing, and a good way to reduce stress, headaches, and anxiety associated with hormonal changes," she says.
Swedish Massage
During the second trimester, the stimulation from Swedish massage may boost the health of expectant mothers. A study conducted by the National Center for Complementary and Alternative Medicine found that volunteers who received a 45-minute Swedish massage experienced significant decreases in cortisol (the stress hormone).
However, Suarez says that Swedish strokes that affect circulation should be avoided in the third trimester, especially if the client has a heart condition. To mitigate this risk, make sure your massage therapist has prenatal training.
Deep Tissue Massage
The slow, firm stroke pattern of deep tissue helps treat muscle pain, joint pain, and nerve pain — aka, many of the major symptoms of pregnancy. "Deep tissue is recommended for prenatal massage since it assists in breaking adhesion, or 'knots,' that can disturb circulation and cause swelling," Saurez tells. "It can also improve sciatic nerve pain that is caused by the uterus resting on the muscles of the pelvis."
Prenatal Massage
Of course, a treatment that carries the name "prenatal" is bound to be safe for pregnant women. The NOW Massage in Los Angeles specifically created "The GLOW" experience for expecting mothers beyond 12 weeks. "Its benefits include relieved muscle tension, improved circulation, and reduced swelling," Post and Rojas explain. "This massage also can promote restful sleep, which is key during pregnancy."
Lymphatic Massage
Dr. Ali adds that lymphatic massage, a method that drains fluid from the body's lymph nodes, is one that pregnant women will especially enjoy. Why? Because it helps alleviate swelling of the legs and feet, a problem that pretty much all pregnant women can relate to.
While you should absolutely consult your physician before booking a massage while pregnant — especially during the first trimester — it's safe to say that Markle will maintain her sparkle until delivery day. And, you know — until happily ever after, too.