This App Is Designed To Reduce Your Stress Levels Instantly
UfaBizPhoto/Shutterstock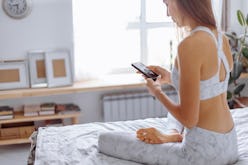 Some days it feels like everywhere you look there's a stress or anxiety trigger: from something as simple as your daily commute to the news alerts that pop up on your phone at the most inopportune times. With age comes responsibility — and, of course, it seems like these days are especially full of things to fret about — so while sources of distress won't ever fully stop coming your way, there are certainly some stress-relieving apps that can help you better manage your circumstances on the daily.
Given the current climate, it's clear that anxiety is incredibly common and becoming aware that you're not alone in this struggle can provide a welcome sense of relief. But once you've identified the fact that you are suffering from stress (whether it be minor or totally crippling) the next step is figuring out what you can do about it. Therapy and medication can be incredibly helpful for some people, but there are also additional ways to keep stress and anxiety at bay, whether or not you're seeking medical attention — and getting them is as simple as clicking the download button in your app store.
Many therapists, including Los Angeles based Michael Castagnetto, see a lot of value in the use of certain apps to maintain calm and ward off anxious bouts. Some of these utilize classic meditation methods to help you unwind, while others delve a little more deeply. Ahead, find four apps that can help you unwind wherever you are — and they're super easy to use.
Headspace
"Meditation apps can help their users access internal resources during what may otherwise be a busy, anxiety-provoking day," Castagnetto explains. "Having this access during a busy work day enables many of my clients to take a moment to return to a state of calm." Enter Headspace, an app founded by an ordained Tibetan monk that makes guided meditation accessible to practically anyone, anywhere — including pulled over in your car when traffic is getting the better of you.
Calm
Another meditation-focused app, Calm offers a wide variety of prompts to help you fall (and stay!) asleep, start your day on the right foot (via affirmations), and decompress — some of which involve getting out of your head and into your body. And Castagnetto believes this shift can be incredibly helpful for grounding amid stressful situations. "I often recommend that my clients search their apps for guided somatic meditations as a way to get them out of what may be distorted thought patterns that are contributing to stress," he says. "Once the attention has shifted to neutral or pleasant sensations in the body, mental stress often dissipates."
Pacifica
In addition to offering guided meditation, like the aforementioned apps, Pacifica also helps users manage stress by offering tracking tools that allow you to identify patterns in your moods, behaviors, and sleeping patterns, Cognitive Behavioral Therapy-centered activities that help identify and correct negative thought patterns, and peer support groups.
iChill
iChill teaches wellness skills based based on the Trauma Resiliency Model, a science-based concept that recognizes the body's tendency to shift between "high zones" (anxiety) and "low zones" (depression) based on traumatic situations. "TRM offers skills that help our body's nervous system return to a regulated state so we can think clearly," Castagnetto points out. "[This app] enables the user to implement these skills whenever they need to, wherever they are."