This Is The Perfect Hostess Gift To Give This Year — And No, It's Not Booze
goodmoments/Shutterstock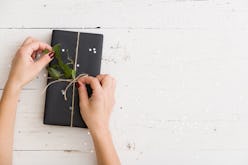 There are so many reasons to look forward to all the upcoming festivities this year, including the food, drinks, and company that likely (hopefully) includes your close friends and family. If you follow general entertaining etiquette, you know that giving back is crucial for being a great guest, so it's probably time to start thinking about some chic hostess gifts that are not only bound to impress, but will also make her job a whole lot easier.
Perhaps you've already got a go-to hostess gift: A decent bottle of wine or her favorite booze. And while those are always useful options, there are also plenty of other — and potentially more creative — things that can either help her execute her hosting duties or enjoy some post-party relaxation long after the guests leave. And the same can be said about florals and candles, both of which make great gifts, albeit ones that can be a bit overdone this time of year.
Basically, what really defines an ideal hostess gift is its function. It could be something that she can use right away to make serving guests even more stylish, delicious, or simple, or it could be something that can help her replace what she's used up. And if you're afraid of stepping on her toes and giving something that she might feel pressure to use ASAP, think beyond the party and get her something she can enjoy all on her own in the name of self-care.
Ahead, find nine ideas for what to give your hosts this holiday, from culinary themed gifts that are perfect for the domestic goddess in your life to home decor that makes her life so much easier. And you won't find a single bottle of booze, candle, or bouquet among them.
Fancy Finishing Oil
Most households have oil, but a fancy finishing oil — the kind you use to top off salads, roasted veggies, or even avocado toast — is something most people invest in themselves. This one by Wonder Valley is delicious, sustainable, and comes in a gorgeous bottle she'll happily leave out on the counter.
Handmade Ceramic Mug
A morning cup of coffee or tea can be such a luxurious moment — especially if it's served in something beautiful. Make her day-after plans a little more chic by gifting her with a handmade ceramic mug that will add to the ritual.
Specialty Coffee
Speaking of coffee, whether or not she plans to serve some to guests after dinner or not, a nice bag of beans always makes a lovely gift. She doesn't drink coffee? No problem, a gorgeous tin of herbal tea is a similarly useful gift, whether she uses it that night or keeps it all to herself.
Chic Coaster Set
It's home decor and function when you gift your hostess with a stylish set of coasters. This one from West Elm is minimal enough to go with many interior styles.
Oil Diffuser
Candles are lovely but an oil diffuser is a home fragrance gift she can use over and over. This one from Urban Outfitters also looks like a beautiful sculpture.
Himalayan Salt Shot Glasses
These reusable salt shot glasses are a perfect gift for tequila drinkers.
Fabric Napkin Set
Anything to help your hostess set a beautiful table makes a great gift. And since not everyone owns a decent set of fabric napkins, that's one that will likely be appreciated.
Serving Bowl
If you want to bring a lovely piece of serveware as a gift, try to keep in mind something that's versatile with all different types of decor, like this sleek stoneware bowl from Zara.
Ready-To-Serve Dessert
Not only is chocolate loved by nearly everyone, it also can be legitimately good for you. That said, chic confection company Compartes has recently come out with a line that not only suits a wide variety of dietary restrictions, but it's also spiked with trendy wellness ingredients. The variety pack isn't just a beautifully packaged gift, it's one she can also utilize ASAP as an easy dessert.