Stick With This Florist-Approved Tip For A Perfectly Simple Fall Centerpiece
@twigandtwine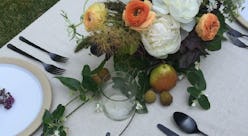 Sure, creating a killer dish for any fall fête is one of the things you can do to make sure your guests won't soon be forgetting your epic hostessing skills, but if you don't have a stunning table to serve it up on, you could be missing another key component. While some decor tasks are best left to the pros, others offer an opportunity to show off your DIY skills — or at least give them a whirl. And though it might seem like a big undertaking for non-experts, apparently whipping up an eye-catching fall floral arrangement might be more doable than you think, especially if you know a few crucial tips.
Whether it's the centerpiece of your holiday tablescape, a gift to a friend who's hosting, or just a simple decor accent in your home, a beautiful floral arrangement is a great way to celebrate the spirit of the season (specifically when you're highlighting fall's biggest color trends). And when it comes to the former, it's a simple way to dress up your otherwise basic dining essentials and make a major impact. But if you're not well-versed on flower arranging, this could seems like a daunting task.
Thankfully there are a few go-to florist tips that make creating a autumnal bouquet a lot easier than you think. Just ask Heather Williams, creative director and owner of Twig & Twine floral design studio in Los Angeles. Though she regularly designs jaw-dropping arrangements for weddings and other private events for high-profile clients and brands, she's got a few tricks up her sleeve that you can apply for a DIY approach when hiring a pro just isn't an option. Ahead, find the six suggestions she has for making a totally seasonal arrangement that will be the star of your next soiree.
Restrict Your Palette
There are just some shades that capture the fall feels, like oranges, reds, and golds. And Williams suggests that sticking to these will make your arrangement instantly more seasonal. "Keep it monochromatic or within a warm palette," she says. "A mix of warm fall tones is an easy win and reminder of the season."
Add Some Seasonal Produce
According to Williams, scents and coffee drinks aren't the only places to channel your pumpkin obsession. "Consider gathering gourds along with fall vegetables and fruit either in your favorite serving bowl or styled as a runner on the table," she recommends. "Once your gathering is over you can cook or eat the items used for a zero waste decor option."
Try It Dried
"Dried and bleached items are all the craze in floral design right now," Williams admits. "Head to your local hobby or craft store and check out the options. I'd suggest using all one type of grass/flower and buying a few bunches. Minimalism goes a long way sometimes. Plus you can keep these out for the entire season and refuse the following year."
Head Outside For Inspo
Besides the blooms you pick up at the store or flower market and any fruit or veggies you include, Williams recommends looking in your own backyard (or front yard, as the case may be) for a few other autumnal touches. "Have a tree in your yard with leaves that changes colors such as a maple, smokebush, or sweetgum?" she asks. "Cut a few branches and place in a taller vase in your entryway or on a credenza. You'll literally be bringing the outside indoors with a stunning fall palette."
Keep It Simple (And Seasonal)
You don't have to make things complicated to create a wow-worthy arrangement. Take Williams' advice and focus on just one or two types of blooms for a simple but seasonal effect. "Hit up your local farmers market and buy whatever blooms the vendor is selling," she says. "Keep it simple and buy one type of flower (may take a few bunches depending on your vessel) and no more than three. Most DIY flower projects tend to get complicated when too many ingredients are used, so keep it simple." Some example of fall season flowers to shop include chrysanthemums, dahlias, orange gerber daisies, marigolds, and sunflowers.