This Kourtney Kardashian-Approved Diffuser Makes Wellness In The Home So Stylish
Poosh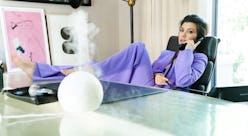 Good news for wellness enthusiasts: Given how buzzy the industry has become in the past few years, related products continue to pop out of the woodwork, infiltrating every aspect of your day from your morning cup of (adaptogen-spiked) coffee to your bedtime ritual (complete with calming apps and essential oil blends). That said it was only a matter of time for your home's interior to be affected. Now, besides the supplements stocked in your pantry, the fitness accessories stashed in your closet, and the clean bath and body products in your bathroom, there are a ton of wellness home decor items that won't just make your home feel more healthy — it will also add to your aesthetics.
With public figures like Gwyneth Paltrow and Kourtney Kardashian — both of whom have launched wellness platforms — embracing some of the biggest trends, more and more people are starting to believe that investing in things like superfood powders, foam rollers, and more could actually benefit their lives. And with more demand comes more options: Enter the idea of products that can pull double duty as decor.
One of the best recent examples of this is the collaboration Kardashian did with her site Poosh and wellness company Saje. Following the bestselling collab with Vital Proteins, Poosh recently released a chic oil diffuser and essential oil blend. With its minimalist design, the diffuser can seamlessly blend into your decor, while giving you the benefits of aromatherapy — which, according to some, include a boost to your mood, better sleep, and more.
And there's more where that came from. Paltrow's Goop has also teamed up with brands to offer health-benefiting products for your home, including a sleek meditation pillow with CB2. And what's exciting about the popularity of this trend is that it's becoming more accessible as well. In fact, some of the best-designed wellness decor items around won't cost you more than $100. Start your own mini home makeover by checking out 10 affordable items ahead that will give your interior an all-around upgrade.
Not only do diffusers help make your home feel healthier and happier, but they also make great gifts for others. This Poosh x Saje collaboration also includes a special essential oil blend to get your started.
Don't underestimate the styling of your coffee tables when it comes to your decor. That said, you can merge wellness with interior design by investing in a cool coffee table book about plants, mediation, crystals, or even healthy cooking.
With a minimal design and neutral-colored linen fabric, this mediation pillow doesn't have to be stored away when it's not in use. In fact, you'll want to keep it out all the time (which may just inspire more meditating).
Get soft, diffused light plus cleaner air with a Himalayan salt lamp.
"Smudging" with Palo Santo — a so-called holy wood — is said to bring good energy and fortune into a space. Beyond that, it also smells pretty heavenly. And this copper set from The Citizenry makes burning it look so chic.
There's a laundry list of plants that actually help purify your air, and The Sill stocks a bunch of them in simple, chic planters so they're also going to make your space look more lush.
A good stress-relieving bath can be an important part of your self-care routine. Make your baths even better by investing in a bath caddy where you can set a book, a glass of tea (or wine), and even burn a candle to set the mood.
Some people believe in the healing property of crystals, but they're also pretty undeniably beautiful. Try rose quartz, a stone of love as a good beginner's crystal.
Finally, a water filtering pitcher that's actually beautifully designed.
Weighted blankets can reduce stress and anxiety, plus help you sleep even better. And while not all of them look super stylish, this chunky, acrylic knit version manage to look great in the home while being beneficial. And as a wellness bonus: It's made of eco-friendly materials.