Skip The Wine And Try This Spirit For A Cheese Pairing That's Totally Unexpected
Serhii Perepelytsia/Shuttrstock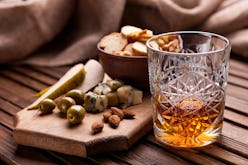 Planning a holiday get together this season? One way to ensure yours is a standout is by switching up some of the traditional elements. That's not to say that a classically festive affair isn't fun, but by throwing in some unexpected twists, yours could be an experience for guests to try something totally new and unexpected, which makes for an especially memorable occasion. And according to buzz in the booze business, one such idea involves ditching the wine pairings in favor of a different spirit. Apparently scotch and cheese is the new combo to try, and with the right elements, this kind of party could win over even those who are new to (or even a bit leery of) the liquor.
Everyone loves a good charcuterie board — and as a party host it's also an easy thing to put together (no cooking required) — so you've likely got that part down. But if you're not an expert on scotch, there are a few things to know if you're considering swapping in the dark spirit for your usual fall wines this Friendsgiving dinner or chic holiday soiree.
For one thing, you may not have guessed that this type of whisky can have just as many nuances as vino, which makes it great for pairing with cheese. According to Rachel Barrie, Master Blender for GlenDronach Scotch Whisky, "Scotch's fruit and malt flavors, combined with smooth and sumptuous creamy textures complements that of cheese." Barrie explains that, like wine, these notes differ based on elements like location, distillation process, and types of casks. For example, her brand utilizes Spanish oak sherry casks which give the scotch a sweetness, full-bodied taste, and long finish.
Still not quite a believer? It may be because you have some misconceptions about the booze. "A general misconception when it comes to scotch is that they all taste 'smoky'," says Barrie. "If this is not a flavor profile you enjoy, ask for a non-peated scotch at your local retailer. You will most likely be surprised by the smooth, sweet, and fruity taste."
And that's not the only tip the master blender has if you're shopping for a good scotch this season. "Think character and flavor," she suggests. "Scotch single malts have incredible diversity of style and individuality of character, similar to that found in wine. Look for a style that appeals, read the tasting notes on label, and head for the tastes you enjoy, whether dark, orchard or citrus fruit, sweet or smoky malt, or indeed smooth or spicy textures. There is a single malt to appeal to every palate!"
To start planning your own scotch-focused fete, find a few of Barrie's best entertaining tips ahead.
Start With A Signature Cocktail
As your guests trickle in, treat them to a signature scotch cocktail before the tasting officially begins. This is a great way to subtly get them in the sprit (pun intended) for what's ahead. "My favorite is the Blood & Sand, a classic drink that combines scotch single malt with sweet vermouth, fresh blood orange juice and cherry liqueur," says Barrie. "You can pre-batch before guests arrive and serve in a festive coupe glass."
Use The Appropriate Glassware
"When serving scotch neat, a Glencairn glass or sherry copita is best as it allows you to savor the sweet aromatics and complexity of the whisky," advises Barrie. "If you do not have these, a wine glass with a narrow rim will also work."
Try Some Expert-Approved Pairings
If you're not well-versed in scotch just yet, Barrie has a few no-fair pairings to get you started. Firstly, Dubliner and 12-year-old scotch. "The cheese combines sharpness and buttery sweetness that lends itself well to the orange, plum, walnut, chocolate, and soft spiced oak flavors found in a 12-year-old single malt, matured in sherry casks." Gorgonzola tends to pair well with 18-year-old scotch, as Barrie notes that the cheese's sharpness contrasts well with the flavors of this sherry cask matured booze, which could include allspice, sweet fruit, fudge, and toasted walnut bread. And goat cheese is a great match for a 21-year-old scotch, given that the cheese provides a gentle, creamy backdrop to an older scotch's bold richness.
While those three cheeses are easy to find wherever you shop, Barrie does offer an additional suggestion for the daring cheese aficionado. "A cask strength single malt scotch at 61 percent ABV pairs with a rustic, soft-ripened cheese like the Jasper Hill Harbison," she explains. "The cheese is woodsy and sweet, balanced with lemon, mustard, and vegetal flavors, yet pairs surprisingly well with the powerful cask strength whisky filled with caramel, macchiato, baked orange, prune oil, and honey flavors.
Carry It Through Dinner
If you do happen to have a sit-down dinner planned, there's no need to switch back to wine after your tasting. "Don't be afraid of food pairings," suggests Barrie. "Scotch pairs beautifully with cheese and chocolate, as well as other foods such as duck, prime rib, and even fish!" (Case in point: GlenDronach recently hosted a dinner at Los Angeles eatery Rebublique, during which one of the star pairings was trout with cacio e pepe sauce that worked brilliantly alongside the brand's Cask Strength Batch 8.)