This $14 Wine Will Replace Your Summer Rosé This Season
lithian/Shutterstock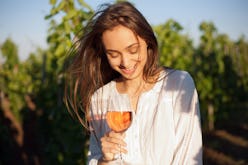 This season's best sips don't all involve pumpkin spice. But similar to the way most people tend to transition from cold brew to their trusty PSL (or other reasonable facsimile) this time of year, many look to replace their adult beverage du jour as well. That's not to say that if rosé is your year-round go-to you shouldn't keep stocking up, but if you are in the market to try something new and perhaps more autumnal, there are some sommelier-approved fall wines to try that just might make for the perfect replacement.
In the same way that a crisp, dry rosé just seems to hit the spot for summer, there are a handful of styles and varietals that feel totally suited for fall's temperature, mood, and heartier dishes. Whereas seasonal cocktails are filled with ingredients that scream autumn (like pear, apple, or pomegranate), wines are decidedly more nuanced. Thankfully, there are pros to help direct you to the reds, whites, oranges, and yes, even a rosé or two that will be perfect to pair with the cooler evenings and celebratory dinners that the season has in store — and that includes some surprisingly affordable bottles of vino.
To help get you started on your fall wine shopping, see ahead for six options to look for, per the suggestions of Victoria James, Beverage Director and Partner at Cote and Undercote, and author of forthcoming the text Wine Girl: The Obstacles, Humiliations, and Triumphs of America's Youngest Sommelier. After trying these, you just might forget all about your favorite rosé — at least until summer comes around, that is.
Beaujolais
James refers to this fruit-forward, light-bodied red as the classic autumnal wine — and that's for good reason. Beaujolais is traditionally released the third Thursday of November and is intended to be sipped ASAP. And while the sommelier admits that this style of wine can often be less than stellar, there are still plenty of great options that can turn even the biggest wine snob into a believer. "Yes, some examples of Beaujolais nouveau are complete swill (in Japan they even take baths in it!) but great producers of cru Beaujolais also make tasty nouveau offerings," she explains. "Think Domaine Dupeuble, Jean Foillard, and Domaine de la Prébende. If nouveau isn't your thing, go for more structure with cru examples from Morgon, Fleurie, and Côte de Brouilly."
Cerasuolo d'Abruzzo Rosé
No need to totally give up the pink wine if you're not quite ready to part with it — but perhaps try a rosé that's slightly sturdier instead of a summer-friendly Provence style, like this Central Italian varietal. "For rosé with a bit more oomph, that can stand up to heavier fall dishes, think Cerasuolo d'Abruzzo," James suggests. "This cherry-red wine is almost like a light red, and can be funky and earthy. Great producers are Cristiana Tiberio, Annona, Praesidium, and Valentini."
Orange (Skin Contact)
"With all of the squash-orange foods coming into season, maybe try an orange wine to match," says James. "A white that spends some time on its skins so it picks up a bit of color and structure — perfect for heartier dishes. Look for classic producers such as Paolo Bea, Zidarich, and Gravner. Other fun examples can be found in Slovenia, Georgia, Sicily, and even the new world!"
Champagne
For champagne lovers, this bubbly is great for celebratory (or no occasion at all) sipping year round, but James argues that fall is an especially great time to grab a bottle of the good stuff. "The expended yeast cells in the wine make it perfect for digestion during a big meal, and the bubbles can break through the richness of any dish," she explains. "If you want to try something a bit different look for Special Club Champagnes from an elite consortium of small growers in the region. There are less than 30 members, and each bottling comes in a squat shape and is embossed with the group's crest. The wines are the best from each producer and truly speak of a place and time."
Sherry
Sherry often gets a bad rap, or is just wholly overlooked. But according to James, this season just might be the perfect time to give it a whirl, considering its inherent flavors make a great pairing with many autumnal foods. "Want to match the toasty, nutty flavors of fall perfectly? Look no further than Sherry," James shares. "These southern Spanish wines are fortified and wholly unique. Styles range from the absolute driest wines on the planet to the absolute sweetest wines on the planet. With this huge range, there is definitely something for everyone. With root vegetables and toasted nuts, pair wines from producers like Valdespino, Equipo Navazos, Lustau, González Byass, and Barbadillo."
Sauternes
Don't forget about dessert wines, especially in this entertainment-heavy season. Sweet wines may not be for everyone, but if you're open to sipping one as a post-meal digestif, fall is an ideal time to sip something like a Sauternes. "Autumn brings us so many sweet and earthy foods such as pumpkins, figs, apples, and carrots," says James. "To match these, you first need to match their sugar content. One of the best meals of my life was roasted chicken with potatoes in Bordeaux with a chilled bottle of golden Sauternes. The pairing seemed so luxurious and although the wine was sweet, it perfectly juxtaposed the foods."