This Cheese Board Is A Foolproof Hostess Gift For Any Holiday Party
MaxyM/Shutterstock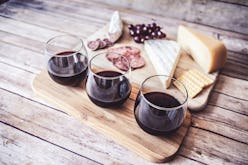 Before you know it, the holidays will be here and your schedule will be abuzz with plenty of festive parties to attend. And while get-togethers with your friends and family can certainly be a ton of fun — with great food and drinks and lots of overdue catching up — it can be stressful to consider the extra gifting it entails. Case in point: the etiquette of not showing up empty handed. Thankfully, there are plenty of cheap hostess gifts you can find that will impress without making you dig too deep into your wallet.
As head of content at the culinary gift mecca that is Williams Sonoma, Merritt Watts has gift giving down to a fine art, and she also knows that the way to your hostess' heart is by offering her something that can make her job a little more manageable (or make her feel pampered post-party duties). "Hosting is such a generous act and a good thank-you gift will actually make the host's life easier, and feel like a welcome surprise," she says. This might entail kitchen goods she can use ASAP for the impending affair, something she can pop in the tub for an ultra-relaxing bath when the guests have gone, or a slew of other items that won't put more on her plate (so to speak). As Watts explains, "Whatever you do, don't bring something that will make the event even more work for the host, who is already plenty busy welcoming guests and tending to the meal or bar."
And just because you find something that will feel luxurious for your generous hostess — who's already giving you the gift of her home, food, and drink — doesn't mean you have to go broke doing it. To prove that point, find eight affordable yet totally chic ideas for what to get your holiday hostess this year, including a few straight from the Williams Sonoma gifting guru herself.
Seasonal Wreath
Flowers are always nice, but Watts suggests bypassing the standard bouquet in favor of a festive wreath. "A fresh wreath will last longer and is more seasonal," she elaborates. "And your host doesn't have to rush and find a vase right away." A win-win.
Something Monogrammed
"A little forethought can make a big difference," says Watts, who recommends going the extra mile by customizing your hostess gift with a monogram. "Order a home staple, like this glass carafe and water glass," she suggests. "Perfect to keep by the bedside or in the office."
Specialty Booze
A great bottle of wine is always a welcome gift, but for a change of pace try picking up something she might not already have stocked, like a unique aperitif (to drink before dinner) or digestif (to sip after for digestion). Added bonus: You just might get to enjoy it with her.
Fancy Non-Alcoholic Beverage
A great hostess knows it's always handy to have some non-alcoholic options on hand, particularly warm, cozy beverages to sip after dinner with guests. A great bag of coffee beans or high-quality tea is always thoughtful for this reason, and these cutely packaged matcha sticks will impress every time.
Luxe Hand Wash
By having you over, your hostess is sharing a lot of her resources with you — not just the food and drink. She's probably had to stock her bathroom with extra lovely goods, so you can thank her by giving her a luxe product she can share with guests, or keep all to herself. This citrus-y, scrubby hand wash from Aesop is always a big hit.
Cheese Board
Often with holiday dinners, you're encouraged to bring a dish to share, and Watts has a brilliant idea for tying that into your gift. She says, "A doubly thoughtful gift: Offer to bring the cheese course, then set it on a marble platter that the host can keep after the party is over."
Something Sweet
Even if your hostess has prepared a dessert, it's always a nice touch to offer petit fours or small sweets she can share (if she chooses!). And who doesn't love cute, colorful macarons?
Cozy Throw Blanket
Like everything else on this list, a cozy, soft throw is something that your hostess can enjoy by herself at home, or offer to guests — particularly on a chilly night. And you can find some that feel luxe and make a lovely home decor addition for less than you'd think.