Burn This Unique Candle For The Most Unexpectedly Perfect Fall Home Fragrance
Otherland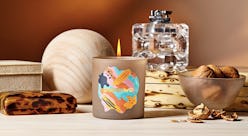 Whether or not the climate where you are has caught up to the calendar date, there's just something about this time of year that makes you want to nest. This could means swapping out all your bedding for warmer, more sumptuous textiles or it could mean baking up a storm. But one aspect of creating the ideal fall atmosphere in your home that's not to be missed is the fragrance. And if you're the type who wants something less traditional — yet still super seasonal — there are a few unexpected fall candle scents that just might be the key to your autumnal nesting.
According to top interior designers, switching up your home fragrance is one of the easiest decor updates you can do — it may also be one of the most affordable, too. And there's not just one way to set the mood for fall with scent, which means if you're not into the pumpkin spice thing (or the apple cinnamon thing, the fig thing, and so on) it might be a nice change of pace to try other equally cozy fragrances that make great alternatives to the classics.
Many cult-favorite brands have created fall-friendly candles that feature spicy, warm, woody, and earthy notes, but in an unexpected way. For example, they might be offset with bright citrus or classic florals, or they may focus on less on-the-nose flavors like walnut and cardamom that often get eclipsed for the usual suspects (i.e. pumpkin). And because candles are the ultimate mood-setters, they also make great hostess gifts. Going with a non-traditional fall scent not only means you're less likely to give her a repeat gift, but she'll also get more use out of it. To get you started shopping (whether for yourself or someone else), find six candles ahead that may be unique, but will absolutely still bring on the seasonal feels.
This buzzworthy brand's new Manor House Weekend collection, includes a few non-traditional fall gems, but this blend of sandalwood, toasted walnut, and sweet hay might just be the one to beat. Can't choose just one? Otherland also gives you a deal when you scoop up three, so add on the Cardamom Milk and Crisp Cornflower for the ultimate autumnal trio.
With popular scents like Kush and LES, you wouldn't expect the expected when shopping BoySmells' candles. And that's exactly what they deliver with the Chromesthesia II collection. Particularly, this combination of ambrette seed, bitter orange, cassis, orris, musk, and hazelnut is warm, cozy, and everything you want in a fall fragrance.
This fragrance may actually be inspired by the tree-lined streets and architecture in Kyoto, but with notes including Hinoki cypress, vetiver, and pine, it'll give you just enough of a nod to the holiday season wherever you are in the world.
The Los Angeles-based brand's Sunset Collection epitomizes the city's summer-year-round vibes, but if you want something more seasonal, this medley of piñon logs, cedar, and vanilla will seal the deal.
D.S. & Durga is notorious for its unique smells — like Big Sur After Rain and Portable Fireplace. With '85 Diesel, you'll get a hearty, earthy, slightly masculine scent from the combination of saffron leather and suede as top notes, and diesel smoke and earth dirt at the bottom. Traditional it's not, but you'll want to burn this moody candle all season long.
Not all fall scents have to feel heavy. Maison Louis Marie's Dame de Boumois is herbaceous and fruity with green leaf and pear on top, but it's grounded by vanilla and rosewood for a little more depth.