13 Holiday Gifts For Foodies, According To A Chef Who Knows Her Stuff
Evgeny Karandaev/Shutterstock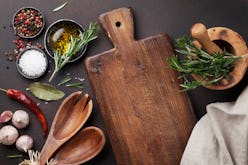 If you're lucky enough to have the kind of friend or loved one in your life who's the type to bake you a loaf of fresh bread in her spare time or who always brings the best-looking and tasting dish to any dinner party, be thankful. Better yet, show your thanks to them this holiday season with a foodie-approved holiday gift they're guaranteed to gush over.
If you're not as culinarily blessed as your fellow foodie friends or family members, it may not be super clear what type of items constitute a good gift — especially if you're concerned they may already have every kitchen gadget, cute decor item, and entertaining accoutrements on the market. But regardless of how well they're stocked, there are still plenty of goodies to grab this year that will make any kitchen-savvy giftee's life a little bit easier and more luxe.
As the chef and owner of NYC-based creative culinary company Day Into Night, and former pastry chef at Michelin star steakhouse M. Wells, Ana Ortiz knows exactly what kind of gifts foodies and cooking enthusiasts would be thrilled to unwrap this year. Whether it be a cookbook they'll return to over and over, a mixing bowl that's almost too pretty to put away, or a pantry ingredient that will add unexpected flavor to any dish, she's got the intel on what makes a truly great present — and her ideas are a heck of a lot more creative than a restaurant gift certificate. Ahead, find the culinary guru's expert opinions on the most practical, thoughtful, and beautiful gifts to give foodies.
Chances are, your foodie friend has a cookbook or two in their arsenal already. For that reason, finding one that's classic — not trendy — is best, since they'll find themselves going back to it over and over for inspiration. Ortiz particularly loves a tried-and-true one from the beloved San Francisco eatery, Zuni Cafe. "I love the Zuni Cafe cookbook," she says. "It was published so long ago but every recipe is so delicious and it's a cookbook you are meant to read and learn from in a really beautiful and thorough way."
Every great home cook needs a quality cutting board for prep. This one, made from beautiful acaia wood, also happens to be pretty enough to double as a cheese board, so it's really versatile.
If you're looking for something unique to gift a baking enthusiast one your list, consider tools that make their life in the kitchen just a little easier, like this table sweeping set. As Ortiz notes, "It's the perfect tool for cleaning up flour after rolling out pie and cookie doughs."
Shopping farmers markets is a simple pleasure shared by loads of foodies. If that's the case for your friend, one thing to consider might be a sturdy basket to tote their bounty. As Ortiz explains, "I love baskets with both long and short straps while shopping for produce, and find that pretty baskets do a better job keeping fruits and vegetables from getting squished."
Tea always seems to be one of those items you never think to buy for yourself — which is why picking up a truly elegant type for any foodie is a great gift idea. And it certainly doesn't hurt to find one that's also beautifully packaged. "I love Bellocq tea but I would be lying if I didn't admit it was in great part because of the beautiful yellow caddies that hold their wonderful teas," shares Ortiz, "This set includes one of my favorite blends to drink in the afternoon, Little Dickens, which is a beautiful rooibos blend with cacao nibs, vanilla bean, and calendula and rose petals."
Count on your foodie friends to have their pantry stocked with cooking essentials, but a unique condiment just might add an unexpected twist to their future dishes. A reliable go-to is a tasty chutney that can go with so many things, but especially shines on a cheese and charcuterie plate. Ortiz particularly loves those by Le Bon Magot. "I think these make great stocking stuffers as well as a great gift to bring as a guest to a holiday dinner," she says.
Another great stocking stuffer or edible treat to gift a natural cook is a fancy bar of chocolate. Of this fig-flecked cacao bar from Dick Taylor, Ortiz says, "every inch is covered with chewy, fruity pieces of dried black figs. It tastes like grown up Raisinets."
The cooking and baking process can surely be messy, but who says it can't also be pretty? "Mauviel Copper Mixing bowls are one of my favorite things to give people as gifts," Ortiz says. "They help whip up the most perfect, stable meringue and are also great for making whipped cream and mashed potatoes."
If you're skeptical to get your foodie a kitchen item they may already have, consider a product that will pamper those hard-working hands, like Aesop's slightly scrubby hand wash. "These are always a lovely treat to give and receive," offers Ortiz. "The wash has little beads, which make it a nice gentle scrub and the scent is vetiver and petit grain, which are scents but don't feel out of place in the kitchen."
Cooking enthusiasts know how much mileage they can get out of a good quality vinegar, and sherry is a go-to for many chefs. "I think everyone should have sherry vinegar in their kitchen," Ortiz explains, "It's mellow and bright and good sherry vinegar adds a complexity to dishes and salads like no other vinegar does."
Being a foodie isn't only about what you whip up in the kitchen, but often times it's also about being a truly great hostess. That said, a beautiful bread basket is a great gift because it will make any spread look extra lovely.
A handmade ceramic bowl is both beautiful and practical for any foodie. "Any piece by the magical ceramicist and cook Colleen Hennessey is great gift to both give and receive," Ortiz states, "I particularly love this set of small nesting bowls, which is perfect for home kitchen's mise en place."
Just like vinegar, a high-quality olive oil is an absolute staple for the kitchen of any home cook. Look for an organic finishing oil for a gift that's above and beyond that standard variety. As opposed to cooking with them, they're fragrant and flavorful to finish off soups or salads with a little extra flair.