The Surprising Beauty Look From Couture Week That Everyone's Talking About
Giorgio Armani Beauty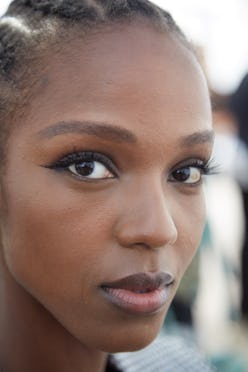 If Fashion Week is a preview of up-and-coming beauty trends to try, Paris Haute Couture Week is its conceptual older cousin. Translation: It's a preview of the trends you'll think about trying — and maybe even experiment with in the privacy of your own bathroom mirror — but ultimately decide against, doubting whether you can pull off such an over-the-top ~lewk~ in real life. At least, that's the way Haute Couture used to be. The Fall 2019 Paris Haute Couture Week beauty looks are proving to be refreshingly easy to recreate, and not the least bit intimidating. (OK, maybe the glitter lips at Schiaparelli are a little daunting. But I digress.)
Take, for example, the bold eye and bare skin — such a wearable pair! — at Giorgio Armani, created by makeup artist Linda Cantello. "Reworking the strong Armani Beauty Code of the early '90s, we emphasized the top lashes for a simple graphic eye," the artist explains to TZR, calling it "a diva-like attitude to celebrate Armani." As with all diva-worthy looks, false eyelashes are involved. If that feels a little heavy for summer days, look no further than the glimmery, shimmery lids and lips at Ralph & Russo. Since the clothing was full of opulent Art Deco influence (feather trim, geometric jewels), the corresponding beauty was decidedly understated (featherweight foundation and highlighter to reflect said jewels).
Still not convinced you can work couture inspiration into your everyday routine? Allow the six best beauty looks of Paris Haute Couture Week to prove it's possible.
Giorgio Armani
Lest you think the strong eye and nude lips from the Giorgio Armani runway are basic, you should know that the extended cat-eye comes courtesy of strategically-placed falsies. "False lashes were applied to extend well past the outer corner of the eye and then blended with the Armani Beauty Smooth Silk Eye Pencil, creating a cat-eye effect that added some drama to the minimal makeup look," the fashion house said in a press release. Cantello complemented the lashes and liner with matte skin (via Giorgio Armani Beauty Power Fabric Foundation) and nude lips (using Lip Maestro Freeze in Nuda).
Ralph & Russo
Makeup artist Nicole Thompson created the gleaming beauty look at Ralph & Russo using MAC Cosmetics. The first step: MAC Full Coverage Foundation "buffed over super-hydrated skin for a veil of perfection," as she explained in her Instagram Stories. Ethereal skin was paired with blurred highlight, rosy blush, and just-bitten lips. Oh, and a teeny-tiny pearl in the corner of each eye. (Casual.)
Acne Studios
Technically, Acne presented its Spring/Summer 2020 collection during Paris Haute Couture Week — but the glam is so good, it deserves a shoutout. The legendary Peter Phillips is responsible for the otherworldly makeup, which was built on "natural-looking skin with the Dior Backstage Face and Body Foundation and Primer," he shared on Instagram. Once the foundation was laid, models were given one of three looks: "Stardust glitter faces, dangling crystal teardrops, and liquid silver eyeshadow." The common denominator? Subtly glossy lips.
Chanel
Chanel was all about the eyes. What models lacked in blush, contour, and highlight, they more than made up for in black eyeliner (flicked), brows (filled in), and glasses (of the reading variety). Thank you, Lucia Pica, Chanel global creative makeup and color director, for reminding the world that wire-rimmed frames can be seriously sexy.
Iris Van Herpin
"The Hypnosis collection is a hypnotic visualization of nature's tapestry, the symbiotic cycles of our biosphere that interweave the air, land, and oceans," Iris Van Herpin explained on its Instagram. In terms of beauty, that translated to ocean-inspired makeup care of MUA Sil Bruinsma. Think: dewy, wet-look lids crafted with a touch of eye gloss. Bruinsma described the effect as "luminous" in an Instagram post.
Schiaparelli
Yes, I know the glitter lips at Schiaparelli — conceptualized by makeup artist Lucia Pieroni to match the models' crystal jewelry and headpieces — are not what one might call "wearable." But seeing as you've had seasons and seasons to warm up to the trend (a similar look featured in Versace's Fall/Winter 2016 show and on Fendi's Spring/Summer 2017 runway), I'd say it's high time for the high-key look to make an appearance IRL. Or at the very least, on your IG.