This Easy Eyeliner Trick From Giorgio Armani's Cruise 2020 Show Is Genius
Giorgio Armani Beauty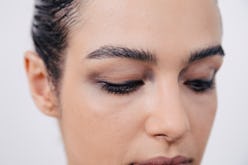 It's impossible not to think of all things Italian when Giorgio Armani comes to mind. After all, the luxury fashion house was created by the eponymous designer who was born and raised in the Bel Paese (that's "beautiful country" for any linguistic novices). That's why I was a bit surprised to find out that the Giorgio Armani 2020 Cruise Collection Presentation was held in Tokyo, Japan, rather than somewhere like, say... Rome or Milan. But according to the designer, the choice was very deliberate — and significant.
"I resisted the idea for a few years, but in the end, I decided this season to include the cruise collection on the runway for a very special occasion: the reopening of the Armani Ginza Tower," the designer told WWD. "I liked the idea of paying homage to Japan and its people, who have always supported me, in offering something brand new. It is an organic project that may not happen again; I will see in time."
The neutral shades, relaxed silhouettes, beaded formalwear, and flat shoes throughout the collection were obvious nods to the culture... and the makeup, keyed by Linda Cantello, Giorgio Armani's International Makeup Artist, played that same role. "Inspired by the duality of Japan, a modern society steeped in ancient culture, a graphic black eyeliner on the top lid is softened underneath with feathery strokes," she said in a release.
According to Cantello, everything was tied together with a matte base, care of Power Fabric foundation, and Lip Maestro Liquid Lipstick in Dolci, a nude pink. It's "classic Armani sophistication meets the modernity of urban Tokyo," she says.
While the unconventional eyeliner moment might look like it's complicated, the trick to getting the look is actually pretty easy. It's simply a matter of smudging and blending. The imperfection is actually the beauty of the eye, so there's no need to be super duper precise as you would with winged liner. The ease makes it perfect for Friday night drinks, Saturday afternoon brunch, a Sunday date... any day of the week, really. And best of all: you don't have to book a ticket to Tokyo or sit in Cantello's chair to do it. But if you do happen to find yourself in Japan, be sure to pack something by the brand. "Here in Tokyo walking the streets, I was happy to see just how many people are wearing Armani. The Japanese are more Armani than Armani!" the designer told Harper's Bazaar Australia.
Get the details of the look — as well as the exact products used — ahead.