Chanel's New Couture Collection Is For A Different Kind Of Fashion Girl
PIXELFORMULA/SIPA/Shutterstock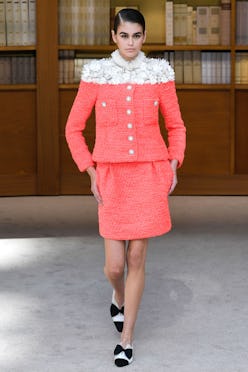 Chanel's new creative director Virginie Viard just debuted her first solo couture collection on for the house on July 2, following the death of Karl Lagerfeld earlier this year. Following Viard's debut during the Cruise 2020 show, she continued to build her vision for the brand with Chanel's Fall 2019 haute couture runway collection. Lagerfeld was known for his extravagant settings — flying in an iceberg, or creating a Chanel-themed grocery store. And though there was nary a snowdrift in sight, Viard instead transformed Paris' Grand Palais into an austere library, where models walked the runway in polished tweeds and bookish glasses.
In many ways the collection continued with Viard's simpler, more pared-back interpretation of the Chanel vision. "I dreamed about a woman with nonchalant elegance and a fluid and free silhouette," Viard notes via press release. Tweed separates were clean, and sharp with many suits finished with a simple cinched belt. Models walked in sleek, black loafers and two-tone bow flats. Though couture shows have a reputation for being extravagant, decadent, and over-the-top, Chanel's latest collection — though meticulously detailed — felt almost entirely wearable.
Even the collection's sumptuous evening-wear was sleek and expertly tailored. '50's-era full skirts, and even a velvet tuxedo dress were simple, and yet delightfully sophisticated. Even the closing look, which traditionally is an all-white wedding look — last season, it was a bridal swimsuit that Lagerfeld designed — was instead, in Viard's vision, a blush-pink ensemble that more represented a silk pajama and robe set, than anything outlandishly bridal.
This new era is one that continues a certain spectacle and glamour associated with the house — yes, celebrities like Margot Robbie sat front row and Kaia Gerber walked the runway — but is a dramatically more restrained interpretation of the signature Chanel aesthetic. Viard's choice to embrace her own designation of "an eternal book lover," as described in the show notes, suggests that the future of Chanel is one that is designed by a woman who looks to her own needs and likes as a source of inspiration.
While couture collections are intended to utilize and highlight the intricate craft of artisans employed by the brand, Viard did so in a uniquely sharp way. The tailoring is impeccable, the proportions are just right, and though you can't literally reach your way through the screen to stroke each intricate tweed, it's easy to envision the rich textures included throughout.
Come September, Viard will debut her third collection for the brand, and her first ready-to-wear season without Lagerfeld at the helm. With the collection will come fresh iterations of the brand's signature bags, and another piece of the puzzle that makes up the future of the iconic house. As noted by The New York Times' Vanessa Friedman, Viard is one of three women helming Paris' most renowned couture establishments — alongside Maria Grazia Chiuri at Dior, and Clare Waight Keller at Givenchy. The combined message is one that suggests that even in the most renowned and established halls of fashion, women are finally owning the opportunity to define the way they want to dress. Viard's astute practicality is a reminder, that luxury doesn't have to mean extravagance, it can also stand for simple (and refreshingly comfortable) perfection.