15 Non-Sticky Pink Lip Glosses That Rival Your Middle School Faves
Glossier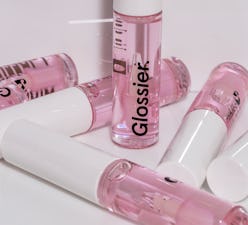 You know you're getting older when you get an invite to a decade party in memory of the decade that you grew up in. Early 2000s-themed celebrations are all the rage these days, with attendees touting their bottles of wine in their monogrammed Louis Vuitton Speedy bags, and popping the double collars of their Lacoste polos on the dance floor. And you can't forget the baby pink lipgloss to top it off... no less than six layers, please. But unlike our middle school days, the new crop of pink lip glosses are non-sticky — and are hydrating enough that they won't attract your flyaways like a moth to a flame.
"A subdued, glossy pink feels fresh and won't appear dated," Gilbert Soliz, the Global Makeup Artist for Marc Jacobs Beauty, tells The Zoe Report. "The less opaque the lipgloss is, the more natural it'll appear. Make sure it's sheer and translucent."
But instead of piling on the goop, lips look just-shiny-enough when you blend and buff gloss into the lips. "Press it onto the lip," Nina Soriano, an editorial makeup artist who works with V Magazine, instructs. "Dab a little in the center of your lips, top and bottom, and press with your ring finger rather than rub, using the pigment like a stain. You will still get the shine but you can control the level of density."
Rosy hued lipgloss also feels fresh when layered on top of your usual lip liner or lipstick, no matter the color. Soriano suggests applying a light layer of lipstick as you would a lip stain, then pressing pink gloss — like Dominique Cosmetics Lemonade Lip Gloss — on top to create a layered effect. For an everyday take on the trend that you can wear to the office, "apply nude or brown liner with a nude lipstick," makeup artist Sean Harris tells TZR. "Top it with your favorite pink lipgloss, and welcome to sexy pink lips for 2018."
In terms of texture, there's an unmistakable lack of stickiness in the latest lipgloss launches — and that may have something to do with the change in consumer demand in between the early 2000s and now, especially when it comes to natural, non-toxic ingredients. (The natural beauty sector is estimated to be valued at $13.2 billion by the end of 2018 and the natural beuty market has grown by 7 percent in the U.S. in the past year, according to Fast Company.)
"Lip glosses are usually made of ingredients that add moisture and shine, courtesy of oils or polybutene," Ron Robinson, a cosmetic chemist and founder of BeautyStat.com, tells TZR. In other words: The lipglosses of your youth mostly relied on the chemical compound polybutene to make them sticky and thus, more long-lasting. Today, the newer products feature a larger concentration of natural oils, like castor and grape seed, to bring the sheen. Generally speaking, contemporary formulas tend to be wax-heavy (like RMS Beauty Lip Shine in Honest, which has a more balmy feel) or rich in oils (like Clarins Instant Lip Comfort Oil, a high-shine option).
Despite the safer ingredients, gloss doesn't wear as long as your lipsticks or pencils due to the oily base — so you probably have to reapply throughout the day. Wow... we really are living in 2008, huh?
Ahead, the shiny, hydrating, but definitely not sticky pink lip glosses that pros love.
Shop Glosses