13 Trader Joe's Holiday Gifts That You'll Want To Keep For Yourself
@traderjoes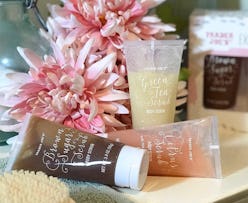 If you live in reasonably close proximity of a Trader Joe's, you probably don't really need an explanation on why this affordable grocery store chain is so beloved. You are also likely fully informed of its seasonal food offerings that are arguably second to none (here's looking at you, Peppermint Joe Joe's). However, what you may not already know is how seriously great the selection of Trader Joe's gifts are around this time of year. Yes, like presents.
Of course, TJ's is a go-to for the kind of festive pre-prepared dishes that you'll want to bring to all the holiday parties (or just eat in the comfort of your own home), well-made beauty products, cheap healthy snacks, and even sommelier-approved bottles of wine, but the grocer also ramps up its offerings of gift-ready items for everyone on your list during this season. Some of these recently-released options include self-care essentials for the product-obsessed (or just anyone in need of a little pampering, really), kitchen staples for the holiday hostesses and foodie friends, and sweet and savory treats for those who would appreciate unwrapping something indulgent and delicious.
Ahead, find a few favorited gift ideas for practically everyone you're shopping for — that is, if you can manage to avoid keeping them all for yourself. Now is the perfect time to practice some good ol' self-control.
For The Beauty-Product Obsessed
If you know anyone who enjoys the occasional (or not-so-occasional) DIY pampering party at home, TJ's has them covered with a huge variety of packaged beauty buys perfect for the gifting season — from macaron-shaped soaps to a trio of masks for all her skincare needs. Seriously, all you have to do is throw a bow around them and you're set.
For The Holiday Hostess
If you'll be attending any holiday dinner parties this year, you should make sure to not arrive empty-handed. Treat your hostess with something she can put to use in the kitchen, like a sampling of Mediterranean olive oils, some black truffle-infused salt, a rainbow assortment of honey, or even some olive wood that can be used to beautifully display a selection of cheeses (which TJ's also offers bountifully, of course). She might also appreciate a little extra booze to offer guests (or just drink herself) so a festive bottle of brew is never a bad idea, either.
For The Ones You Don't Know What To Get
Whether it be a Secret Santa/White Elephant situation or simply someone on your list (like a neighbor or your significant other's parents, who you're meeting for the first time) you don't know particularly well, there will inevitably be those you're shopping for who leave completely clueless. In those cases, something festive to eat is always a good call. TJ's offers a ton of seasonal goodies in that department, like a trio flavored popcorn that cinephiles or TV-lovers can put to good use, an assortment of beautifully packaged chocolates (no wrapping required), or a jar filled with cookie baking essentials.