The Non-Cliché Hostess Gift That Will Be A Hit At Your Next Holiday Party
alfernec/Shutterstock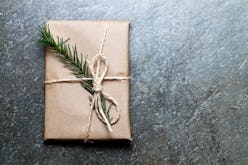 As the holidays inch closer and closer, your to-do list is likely growing longer by the minute. And one thing that literally no one looks forward to is the last-minute shopping hustle — which is why going into the season with a plan can be a game changer. It's always helpful to know a handful of reliable and versatile go-to hostess gifts for those situations that always seem to pop up last minute.
Between Thanksgiving, harvest festivals, Hanukkah, Christmas, Kwanzaa, and other fall and winter holidays coming up, you're likely headed to a number of sit-down dinners and get-togethers with co-workers, friends, and family members. And because you won't want to walk into any of those empty-handed (after all, they've probably planned, cooked, cleaned, and opened up their home for you!) it helps to have a short list of gifts that any hostess — regardless of what they're celebrating — can appreciate.
Considering their Los Angeles-based Midland boutiques are regularly stocked with incredible gift ideas year-round (think: home fragrances, high-end apothecary items, and handmade ceramic pieces, to name just a few), Paige Appel and Kelly Harris have decidedly honed their skills at finding the perfect present for any occasion. As Appel explains, "hostess gifts are always a thoughtful way to say 'thanks for having me.'" And while bringing any offering is a gracious gesture, there are a handful of goods that are especially useful and tailored for the holiday party circuit.
Adele Tetangco, co-founder of cured online marketplace Garmentory also believes in spoiling a seasonal hostess. "I usually spend a minimum of $45 when giving gifts like this," she shares. And while everyone has a different budget for gifting, you can absolutely find something that will make them feel appreciated and pampered, and make their job just a little easier. Ahead, Appel, Harris, and Tetangco all share some of their favorite hostess gift ideas for any holiday party — beyond your usual bottle of wine.
Olive Oil
"Skip the tired bottle of wine and bring a bottle of olive oil," suggests Harris. "Our favorite is the one from Ila, the gourmet food company started by Karen Mordechai of Sunday Suppers. This Spanish olive oil is pressed on a 100-year-old mill in Andalusia and has the most robust, beautiful taste. And it comes in a gorgeous bottle for the aesthete's perfect kitchen staple."
Sage/Incense
Whether or not your hostess is an avid wellness enthusiast, a bundle of sage is another thoughtful gift. "Every home or space needs energy clearing from time to time so we look to the mystics and the plants to give us the earthy smells of a good sage smudging," says Appel. "You can never have too many of these laying around for when you need to burn the flame and clear out some bad attitudes!"
Ceramic Vase
Gifting your hostess a beautiful home decor piece that also offers function to her space is a win-win. Appel and Harris particularly love a neutral ceramic bud vase that can work for various styles. As they explain, "We love a lasting gift for your hostess to adorn her home and remind her to fill her life with flowers."
Coffee Table Book
Coffee table books always seem to be one of those things you never buy for yourself, which happens to be why they make such great hostess gifts. If you're not totally sure of her tastes, you can't go wrong with a beautiful art book by a classic artist. For example, this Georgia O'Keeffe watercolor book is filled with inspiring, appealing images to flip through and soak up.
Candles
Tetangco never tires of one of the most classic and universal gifts: candles. As she explains, "They are something that I don't like buying for myself but I love to receive as a gift." Find one that's presented in a gorgeous container, so it also doubles as home decor for your hostess.
Room Spray
For a change of pace to the classic candle, pick up a room spray or diffuser with essential oils, suggests Tetangco, who loves giving the gift of home fragrance to hostesses.
Something Sweet
Practically everyone has a sweet tooth, so when you don't know what else to get your hostess, follow Tetangco's lead and pick out an edible gift. Small batch jams, high-quality chocolates, or sea salt caramels will be beloved by anyone, and she may even share the wealth and include them in her holiday spread (if you're lucky).
Coffee/Tea
In many different holiday celebrations, dinner is followed by a cup of coffee or tea, which is why it's especially thoughtful to gift your hostess with some. Even if she's already stocked up, it tends to be something that gets used up pretty quickly, so if you deplete her stash after dinner, she'll be able to enjoy a quality cup long after the guests have gone.