12 Easy Trader Joe's Meals You Can Pass Off As Your Own For Friendsgiving
@traderjoes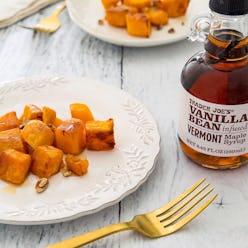 With the holidays just around the corner, there are so many things to consider: who's hosting, who's invited, how to set a stunning table, and — of course — what's for dinner. But the amazing thing about getting your go-to crew together for Friendsgiving festivities is that it's more conducive to a casual, bring-your-own-dish type of affair. And thanks to a few quick and easy Trader Joe's meals, you can impress even the toughest critics with little to no effort — and your friends will be none the wiser.
Yep, leave it to every millennial's favorite grocer to offer practically ready-to-serve (and in some cases, 100% percent ready) appetizers, sides, entrees, and desserts that will make it seem like you slaved away in the kitchen — but didn't.
In addition to its annual slew of pumpkin-centric product releases, TJ's has a ton of other seasonal staples that make creating a Friendsgiving-friendly contribution so incredibly simple. And between the life-saving Fearless Flier, Instagram tutorials, and the festive, ready-to-roll products on the shelves, the beloved grocery store is a wealth of inspiration when it comes to deciding on the dish you'll want to wow your friends with this year. Ahead, find 12 seasonal, easy-to-throw-together dishes (with ingredients that can all be found at Trader Joe's) that will truly impress at your next holiday get together. Oh, and don't forget the wine while you're there.
Butternut Squash Mac & Cheese
This frozen masterpiece made quite a splash last year, so it's no wonder it had a resurgence this season. For those who literally have no interest or skill in cooking, pop a couple of these in the microwave, top with bacon bits and/or parmesan shavings, and watch everyone fall in love with the butternut squash-infused deliciousness. Cue the compliments.
Baked Brie With Pumpkin Butter
Of all the sweet fall flavors, pumpkin spice is one that never seems to go out of style. That said, the addition of some oozy brie makes this three-ingredient dish suddenly a semi-savory starter for nibbling on before dinner. All you need to do is slice off the top rind of the cheese and bake it with a healthy dose of TJ's Pumpkin Butter, then top with toasted pumpkin seeds for a little crunch. Place some crostini or crackers on the side, and you're all set.
Pumpkin Spice Honey Dip
Another pumpkin spice starter to snack on is this sweet dip that's great to pair with fruit slices. It's just a simple mix of vanilla-flavored Greek yogurt, honey, and pumpkin spice, but if you need exact measurements, find the full recipe here.
Butternut Squash Hummus
With just a few ingredients and no cooking required (see the steps to follow here), you can whip up this seasonal hummus that puts a twist on a traditional favorite.
Cruciferous Cranberry Slaw
For a dish that just might win over even the most stubborn salad skeptics, try this warm slaw made with a variety of cruciferous veggies (already pre-sliced and mixed, courtesy of Trader Joe's), cranberries, almonds, and shaved Italian cheeses.
Roasted Broccoli Salad
Another healthy side dish or starter is this broccoli salad, which dresses up the hearty veggie with the addition of just a few simple ingredients — most of which are probably already in your pantry.
Stuffed Cornbread Muffins
Cornbread stuffing muffins with a surprise turkey meatball inside? This is a side dish guaranteed to impress, and you only need about four key ingredients to create it. Find out exactly how here.
Biscuits And Gravy Casserole
A casserole is a classic dish to bring to any potluck, and this one is just about as comforting as it gets, with (optional) pork sausage, shredded cheese, and pre-packaged biscuit dough. See the full recipe here.
Vanilla Maple Butternut Squash
Create a simple, slightly sweet side dish that will satisfy everyone's craving for seasonal flavors. Trader Joe's pre-cut butternut squash cubes get a little help from vanilla-infused maple syrup and a sprinkling of candied pecans. Follow the steps for this super-simple recipe here.
Butternut Squash Pizza
Move aside, cauliflower crust. TJ's now offers a butternut squash option for the season and you can create your own festive pizza by adding on your choice of toppings. Follow this recipe for the grocery store's suggestion of a Fall Harvest pie, or just toss on your go-to favorites, like pre-made pizza sauce and tons of cheese.
Brussels Sprouts And Caramelized Onion Ravioli
Another seasonal addition to Trader Joe's roster is this pre-made pasta. Since it's already flavored with Brussels sprouts and caramelized onion (and filled with cheese, of course), you can serve it up simply by tossing in some browned butter with sage and adding a few shavings of parmesan on top.
Fall Harvest Pasta And Sauce
This duo of autumnal-flavored pasta and sauce is literally a match made in heaven. It was also made for those of you who aren't that handy in the kitchen or are super short on time. Just boil up the pumpkin pasta, add the sauce, and you're good to go.