5 Cheap Wines From Trader Joe's (That Don't Include Two-Buck Chuck)
Markus Mainka/Shutterstock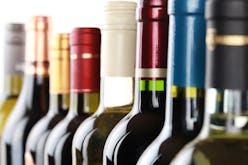 Anyone minding their wallet knows that they can always count on Trader Joe's to provide affordable options for everything from healthy snacks to beauty products (avocado body butter, anyone?). And when it comes to budget-friendly wine, the beloved grocery store chain isn't making an exception. Of course, there's the infamous "Two-Buck Chuck," aka TJ's Charles Shaw label wines that retail for just $2.99, but if that's not your cup of tea — er, wine — there are plenty of other options below the $10 mark that even wine aficionados would happily sip.
Because Trader Joe's offers private label wines only, and because the selection differs from store to store, it can occasionally be tough to navigate if you're not quite sure what to look for. That said, there are tricks of the trade for shopping for bottles, and they can be applied whether you're walking down the aisle of a fancy wine store or your neighborhood TJ's. And leave it to the best in the business — winemakers, bar owners, and sommeliers — to guide the average wine shopper to some of the best bottles Trader Joe's has to offer. Ahead, check out their tips for knowing how to find the TJ's vino that suits your needs, even if that just means pairing with pizza and your fave TV show.
Claire Patelin Sauvignon Blanc Côtes de Gascogne, $5.99
One thing that can tremendously help you find a bottle you're bound to love is knowing which regions are known for what type of wines. Knowing a little bit of geography can inform you on a wine's acidity. Love a tart white wine? Sommelier Floreana Edwards-Younger has some advice. "The closer the grapes are to the north or the south pole, the colder the grapes are when they are growing. The end result is that cold weather equals high-acid grapes. This translates into wine flavors. Look for white wines from cold regions in Germany, France, Italy, or New Zealand — especially Sauvignon Blanc, Riesling, or Pinot Grigio. They will be crisp and refreshing." This bright Sauv Blanc from the Gascony wine district should fit the bill.
Chateau Gromel Bel Air, $7.99
Dustin Lancaster, a Los Angeles-based restauranteur who owns a handful of acclaimed wine-sipping spots agrees that knowing what comes from where can be to your benefit. He says, "I always look for old-world regions that are notoriously good at making wine. For example, this doesn't mean that Chateauneuf-du-Pape or Bordeaux wines will always be excellent, but you can bet that these types of regions have really old vines and centuries worth of practice."
If you want to give an old world wine a whirl, try this French Bordeaux, which happens to be one of TJ's top sellers. And don't let a traditional-looking label fool you: according to Lancaster it's the overly-designed ones to potentially be wary of. "I avoid ridiculously catchy or poppy labels that look like they were made for Instagram," he elaborates, "chances are that's exactly what they are made for."
Albero Organic Monastrell, $6.99
Another thing to be on the lookout for is anything labeled organic. As winemaker Rachel Silkowski DeAscentiis of Say When Wine explains, "'Organic' is another one of those indicators on labels that can help you decide. Not all organic wines are good (and there are lots of great wines that aren't organic) but the designation could indicate that there was a level of attention in the farming that goes beyond mass-produced wines." And if, like her, you enjoy rich red wines that typically come from warmer climates, this Monastrell is a perfect option.
Corvelia Cabernet Sauvignon, $9.99
Have you heard mention of "oaky" wines but have no idea if that's what you're into? Edwards-Younger can help. She offers, "If you are a bourbon drinker or an anejo tequila drinker, this means that you like the flavor of oak! You enjoy notes of butterscotch and vanilla." Sound like you? According to the sommelier, regions like California, Spain, and Argentina are all known for their oaky reds. This cabernet, hailing from California's central coast, will be up any oak-lover's alley.
M. Chevallier Carte Noire Cava, $5.99
If it's bubbly you're after, don't assume that you have to decide between spending a fortune and getting a regrettable hangover from a less-than-stellar bottle. You can still indulge while not overspending. Silkowski DeAscentiis has a money-saving solution for buying bubbles. "My go to for sparkling wine on a budget is Spanish Cava, especially if you typically find Italian Prosecco too sweet," she says, "It's made in the same method as Champagne, so it's similar in taste, but you're paying less." Even at under $6, this cava is likely to impress even your discerning friends' palettes.