10 White Elephant Gift Ideas That Won't Cost You More Than $30
kikovic/Shutterstock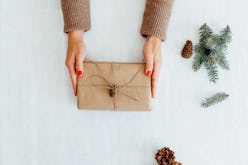 Although Thanksgiving has (somehow) come and gone, there are still a slew of other holidays in the coming weeks to prepare for, including — but not limited to — Chanukah, Christmas, and Kwanzaa. Besides sorting out your plans for eating, drinking, and decorating for the occasion with loved ones, these impending holidays may also require a gift exchange or two. This means you're gonna need a few tried-and-true white elephant gift ideas to keep on deck for any office or friend parties.
It can be tough enough to find the perfect gifts for your bestie or even designated holiday hostess, but if you're involved in a white elephant exchange this year, that means you'll have to find something suitable for someone you might not even know. The way these parties work is that you pick up a present (often with a specific price cap) to be given at random, and then it can be swapped as the exchange goes on. While white elephant gifts can often be humorous in nature, this is also a chance to give someone something that's actually both beautiful and useful — after all, don't you want yours to be the coveted one at your party?
As founder of Unique Markets, a pop-up marketplace filled with independent designers and artists, Sonja Rasula has certainly earned her stripes as a legitimate gifting guru. When it comes to white elephant parties, she opts for the practical route. "I like usable and chic gifts," she says. "My goal is to give the gift that everyone wants and ends up fighting over!" But how do you shop for a gift when you're not even sure who's going to end up getting it? Rasula recommends going for something gender neutral, and sticking to a few no-fail categories, like art, food, and home fragrance.
With markets in Austin, Los Angeles, Boston, and more right around the corner, Rasula specifically has goods by indie brands and artisanal items on the brain (which has always been the bread and butter of her brand). That said, when it comes to a white elephant gift, she's loving pieces that are domestically and ethically made. Ahead find a few of her personally-selected picks for such an occasion, as well as a few others that fit her criteria — and they're all just $30 or under.
Art
While art is always a great gift to give, it can be tough when you're not sure of your recipient's personal style — that's where a cool calendar can come in handy, and Rasula particularly loves this moon calendar by Los Angeles-based maker Margins, which she calls "pretty and functional."
To bring a California vibe to anyone's home, Capricorn Press creates prints of palm trees, cacti, and even crystals. As Rasula explains, "their stuff is great for décor or more inspirational quotes." And who doesn't need a little more of that in their lives?
Food
For functional gifts, it's hard to beat something edible. And because chocolate is beloved by so many, it's a pretty safe bet. Compartes, an LA-based brand, offers unique flavors and creative presentation, so even the most discerning chocolate connoisseur should be impressed with an assortment of its colorful truffles.
Many people don't think to stock up on speciality food items, like an artisanal, homemade jam, and that's why it can be such a welcome gift. For Rasula's money, she loves the ones from M. Greenwood. "These are made by a mom and daughter team and they are my all-time favorite jams," she says.
Candles
Candles are a go-to gift for good reason: They smell great, and they're a luxury item not everyone thinks to buy themselves. For a twist on the classic, Rasula recommends these cannabis-infused ones, which she claims make for "the ultimate chill night in."
Another creative candle option comes from the brand Coastline (also Rasula-approved and available at Unique Markets). Scented with "campfire and ocean air," it also boasts a black tourmaline inside, which is said to have grounding properties. Essentially, it's a gift within a gift.
Ceramics
A handmade ceramic piece is both functional and beautiful, which makes it something so many people would love to receive. Even if your gift recipient isn't a bonafide green thumb, this air plant holder could be an easy way for them to add a little plant life — and decor — into their home.
You may not know if the receiver of your gift is a lover of tea or coffee, so instead of taking a stab, why not pick up a beautiful, handmade mug in which they can enjoy their beverage du jour?
Bath Stuff
The gift of self care is truly priceless, and one of the easiest ways to practice it is with a soothing bath. These intoxicating salts will transform anyone's bathing experience, plus they're packaged so beautifully the bottle doubles as decor.
Not everyone owns a tub, so if you're not sure, pick up an indulgent bottle of bath or body oil. This one from California-based brand Wildcare adds a subtle glow to skin, plus its packed with softening, plant-based ingredients to pamper dry winter skin.