These Are The Y2K Trend Essentials You Need This Summer
Yes, your high school clothes are vintage now.
Edward Berthelot/Getty Images Entertainment/Getty Images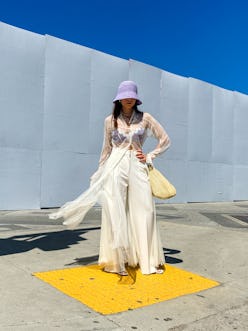 For most millennials, the early-2000s don't seem like that long ago. Yet somehow, over two decades have passed since the excitement of Y2K — and in the fashion world, 20 years is practically a lifetime worth of trends cycling in and out. Though some of the Y2K fashion trends should stay in the vault forever (looking at you, trucker hats), others have earned a modernized second chance.
Wardrobe staples from the early-2000s like light-wash jeans, kitten heels, and even frosted lip gloss are experiencing a resurgence thanks to the runways, celebs like Gigi and Bella Hadid, and (let's be honest) TikTok. And sure, while these pieces might be divisive, there's no denying that their cool factor is just as high as it was 20 years ago.
As you start thinking ahead to your summer wardrobe, we're looking backwards for Y2K fashion pieces that are ready to see another moment in the spotlight. From halters (hello, going-out tops) to the actually-practical bucket hats, here are six Y2K fashion must-haves for summer 2022 that'll have people asking What decade is it? in the best way possible.
TZR Shop is The Zoe Report's shoppable guide to editor-approved buys in fashion, beauty, wellness, and lifestyle. We may receive a portion of sales if you purchase a product through a link in this article.
Y2K Essential: The Denim Skirt
This old Paris Hilton-beloved piece is back, baby. In 2022 though, denim skirts offer plenty more versatility than just club-hopping. Longer ones can be paired with blouses and flat mules or loafers to make them more office-appropriate, patterned or brightly colored ones will add interest to any outfit, and throwback micro-mini denim skirts are great for the beach and going out at night — and any time you truly want to embrace full-on Y2K style.
Y2K Essential: Shell Jewelry
Surfer girl chic and California cool were quintessential aesthetics back in the early aughts (ahem, remember The O.C.?). So naturally, everyone's favorite vacation accessory was oceanic-inspired jewelry. But while it was all puka shell necklaces back then, these days, shell jewelry can be gilded, gold, and, yes, totally elegant. Whether worn to a beach wedding reception or with your everyday 'fits, these 2022 shell jewelry pieces make for the perfect summertime accessories.
Y2K Essential: The Mesh Top
Say it with me: Sheer clothing is practical. Because depending on the cut, it's easily adaptable to a wide range of styles. Go pop-punk with a black mesh crewneck; go simple with a purple floral short sleeve mesh tee; even go preppy with a pink mesh turtle neck. What you wear underneath — a bra, a tank, nothing — is just as up for interpretation.
Y2K Essential: The Bucket Hat
Thanks to their sun-shading abilities, bucket hats are one of the most functional Y2K fashion trends — especially for summer. While they're prime for laying poolside, they also add a relaxed-cool to any ready-to-wear look (think: a baby tee and jean shorts or a floral mini dress). Traditionalists will love solid-colored or printed cotton varieties. For the Y2K-obsessed, try a terry cloth version reminiscent of your favorite Juicy tracksuit.
Y2K Essential: The Halter
As the weather warms and your social calendar begins to fill up, you might realize that your collection of going-out tops could use a bit of an upgrade — and no nightlife-ready piece screams "I love the 2000s" quite like a halter top. A universally-flattering cut, halter tops have the ability to tie a look together. Often a statement either in material, color, or print (or all three), they're one of those trends that can actually be worn day or night, making it a great option to pack for all those summer getaways.
Y2K Essential: The Tinted Shades
Sunny days are here again, and so are tinted sunglasses. Requiring little-to-no styling effort (just pick your color based on your style, personality, or outfit of the day, throw them on your face, and you're good to go), sunglasses are one of the easiest ways for skeptics to ease into the Y2K trend. For a look that's nostalgic but still fashion-minded, stick to frames that are pastel or jewel-toned: Colors like purple ombre, reddish-pink, or burnt orange lend a contemporary touch.
TZR Shop brings you the editor-approved buys we can't get enough of and think you'll adore, too. Best of all, you can shop all of the products above directly on this page without visiting multiple retailers. Simply click on an item to learn more, choose your size or favorite color (if applicable), and then hit "add to cart." When you're done, you can click over to your cart in the top right corner of your screen to purchase all your stellar selects at once. How easy is that?
Questions about shipping, returns, or your order in general? Click here for more information.
Explore more of TZR Shop (and our fashion, beauty, and lifestyle must-haves) here.