Designers Are Showing Skin In An Unexpected Way At Paris Fashion Week
It's an easy look to recreate at home.
Courtesy Of Dior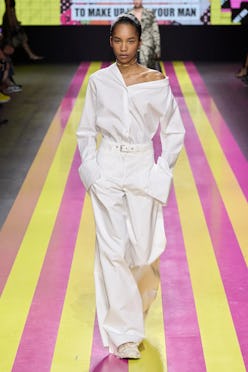 It's natural to have the urge to update your wardrobe each season with the latest designer pieces once they drop (because same). But we'll let you in on a little insider secret: You can also reinvigorate your closet without spending a single dime; true style, after all, is less about the clothes you choose as much as how you wear them. Take, for example, the slouchy pants tucked into knee-high boots look that unexpectedly took the style scene by storm in early 2020 — it was nearly impossible to walk down the street without seeing it in action. Now, an equally simple yet impactful styling trick is entering the sartorial limelight: the pulled-down shoulder look. The skin-baring hack is populating the runways at Paris Fashion Week Spring/Summer 2024, with the industry's biggest players at the forefront of the look.
Not to be confused with a one-shoulder silhouette, this idea is exactly how it sounds: Simply position one side of your top's neckline so your shoulder is on full display, and voilà, you have reinvented your outfit within seconds. Sure, some of the styles on the runway, such as Balmain's iteration below, are specifically designed to give the illusion of a sleeve casually shoved to one side (fashion loves a meta moment!). But comb through your closet, and you'll find many of your go-to pieces — cardigans and button-downs, specifically, are an easy entry point — can offer a similar look with a little finessing. Done right, the overall vibe evokes a sort of Oh this? I just threw it on and ran out the door! energy.
Dior, for one, tapped into the look by way of a crisp white menswear-inspired top, which was purposely adjusted to slide just slightly down one arm. Courrèges took a similar route with a similar (albeit more fitted) shirt that oh-so gracefully fell over to the side.
Dries Van Noten, meanwhile, confirmed you can recreate the effect without the help of a button-down — tees, it seems, are fair game, too. The brand presented a roomy short-sleeve top layered over what appears to be a striped blouse, which toed the lines between elevated (thanks to a neutral color palette) and playful (because, you know, the exposed shoulder and all). Then there was Balmain's romantic take on the look — a subtly revealing top with a larger-than-life rosette placed smack dab in the middle.
Courtesy Of Dries Van Noten
If these images leave you feeling like you have a case of déjà vu, that's because, yes, we've seen this slouchy, undone flourish before — 10 years ago, to be exact. It was at Prada's Fall/Winter 2013 show, where the bare shoulder style defined the entire collection. Some models donned the technique via slouchy cardigans, while others cruised the runway in unbuttoned midi dresses. (The wet, straight-out-of-the-shower hair perfectly aligned with the show's effortless theme, too.) Fast forward to now, and designers in Paris are paying homage to the creative genius of Miuccia Prada by approaching the sartorial conceit in fresh, fun ways.
Another thing worth mentioning? Given that this trend is gathering speed on the catwalks, don't be surprised if it trickles down to the sidewalks this week, too (meaning, you'll soon have even more outfit ideas to copy).