Simone Rocha's Spring 2024 Show Takes The Rosette Trend To Another Level
No garden variety style here.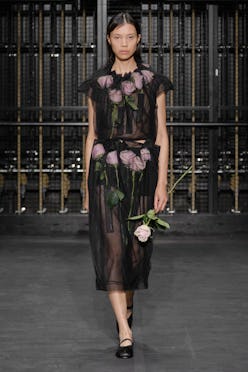 The rosette trend has been on a steady ascension to industry domination for several seasons now. But it seems the look will be at peak exposure this coming spring — according to Simone Rocha, that is. The Irish designer's Spring/Summer 2024 collection was seemingly an homage to the humble country rose, as the flower was a key motif in the brand's latest London Fashion Week runway presentation.
Rural, natural elements have been regular inspirations for the Central Saint Martins alum for some time. Last February, Rocha famously incorporated straw into her Fall/Winter 2023 collection, stuffing the material into ball gowns for unexpected texture and shape. This time around, sweet florals are the focus, strategically layered into the elaborate designs in a similar fashion. Just like the veiled bunches of hay seen last season, long-stemmed, whole roses were tucked under sheer, tulle dresses and bunched at the chest and hips, accentuating the natural curves of the body. On nylon anoraks — set against a color palette of soft pink, olive green, khaki, sky blue, and black — large rosette appliqué's were placed at the shoulders and chest. In a supersized moment, Rocha sent a model down the catwalk in a cropped sleeveless top made entirely of soft fabric roses, paired with satin black trousers featuring a coordinating bloom at the hip. (The botanical was even painted directly on the cheeks of a select few models, further demonstrating the designer's devotion.)
Now, pretty blossoms weren't the only stars of the show. The ubiquitous bow, embraced widely in the beauty looks seen at NYFW, was another prominent fixture in Rocha's spring collection. The Dublin native spattered dainty, stringy ribbons across full ball gowns for an elaborate chandelier effect and, in a more subtle nod, as an accent to rosette bags, netted headpieces, and otherwise simplistic gathered tunic dresses. The traditionally feminine detail was also blown up and draped over shoulders as part of the bodice in the micro-mini dresses worn with bedazzled Crocs. (Rocha collaborated with the shoe brand for next season, exploring "the creative juxtaposition of femininity and utilitarianism to bring to life new designs," according to an official release.) Could all this be signaling the imminent ubiquity of daintily all tied up details? Possibly.
Vianney Le Caer/Shutterstock
Serving as a spark of contrast was the mixture of metallic separates and accessories, almost offsetting the antique, heritage elements with a dash of futurism. Puff-sleeved, silver leather jackets were layered over billowing lacy skirts and clunky platform metallic pumps, sneakers, and flats peeked out from gauzy raincoats and A-line gowns. All signs point to a most glamorous spring season ahead, and Simone Rocha is certainly leading the pack.
See all the highlights from the designer's Sept 17 show below.